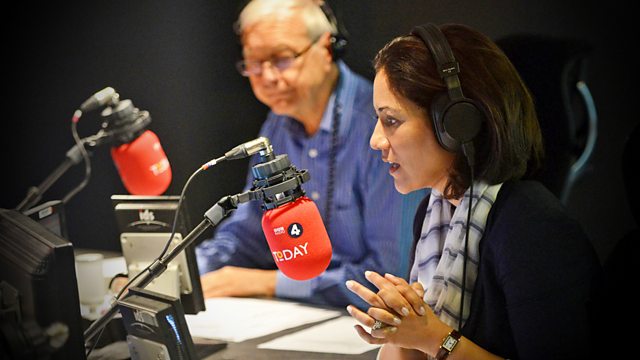 23/12/2016
Morning news and current affairs. Including Sports Desk, Weather and Thought for the Day.
Last on
Today's running order
0650
A consultation on part two of the Leveson Inquiry has been launch to ask how we want our newspapers to be regulated. Dr Evan Harris is the Executive Director of Hacked Off.
0655
Tunisia, the birthplace of the Arab Spring in 2011, is the source of thousands of foreign fighters for ISIS and others. Dr Claire Spencer is senior research fellow on the Middle East and North Africa at Chatham House.
0710
Aleppo is back in the hands of the Syrian army after years of fighting between government forces and rebels. Kamal Alam is an adviser to the British Army on Syrian affairs.
0720
Abortion care is "heading towards a crisis" and reform of the law is just one of the many obstacles that need to be overcome, according to a paper published in the Journal of Family Planning and Reproductive Health Care. Dr Sandy Goldbeck-Wood is editor in chief of the journal.
0725
Vladimir Putin gives his traditional end-of-year news conference later today. Steve Rosenberg is our Moscow correspondent.
0730
Between sixty and eighty prisoners took over a landing at HMP Swaleside in Kent, with riot squads having to be called in. Mike Rolfe is Chair of the Prison Officers Association and John Podmore was a prison governor for 25 years.
0740
German authorities say they have more firm evidence linking a Tunisian man to the attack on a Christmas Market in Berlin. Anis Amri's finger prints have been found in the lorry that was driven into shoppers on Monday. Max-Peter Ratzel is the former head of Europol.
0750
Donald Trump has called for the US to "greatly strengthen and expand" its nuclear capabilities. Mr Trump spoke hours after President Vladimir Putin said Russia needs to bolster its military nuclear potential. Kurt Volker is the former United States Permanent Representative to NATO.
0810
The Syrian army says it has retaken full control of Aleppo, following the evacuation of the last group of rebels.  Jeremy Bowen is our Middle East Editor and Peter Ford is the former British Ambassador to Syria.
0820
The traditional guest editor takeover of this programme between Christmas and the New Year begins next week. Carey Mulligan, Helena Morrissey, Nicola Adams and Dame Sally Davies will be at the helm. On New Year's Eve the programme will be edited by a city rather than a person, when we broadcast from Hull.
0830
The Prison Officers Association (POA) said there was an "ongoing disturbance" at the category B training prison HMP Swaleside last night, after between 60 and 80 inmates took control of part of a wing. Shami Chakrabarti is the Shadow Attorney General.
0840
Russian President Vladimir Putin's annual press-conference takes place today. Oksana Boyko is a journalist and presenter at Russia Today and Michael Clarke is former Director General of RUSI.
0845
More than 200 people died in the central Italian town of Amatrice on the 24th August this year when a 6.0 degree earthquake struck the area. James Reynolds is our Italy correspondent and has been back to see the rebuilding effort.
0850
Later today the Christmas number one for 2016 will be revealed. Liz Mitchell is a founding member of 'Boney M' and Pete Paphides is a music journalist.
All subject to change.
So you think you know the Today programme?