Main content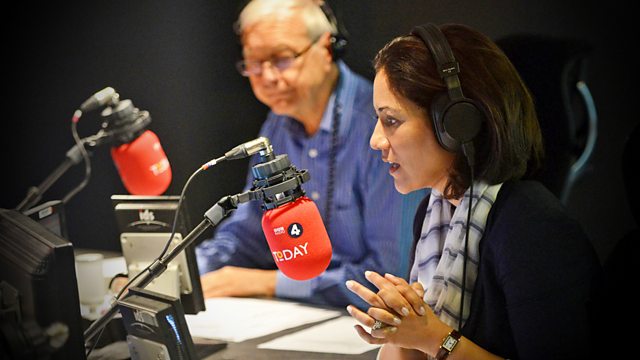 22/12/2016
Morning news and current affairs. Including Yesterday in Parliament, Sports Desk, Weather and Thought for the Day.
Today's running order
0650
The government says it will challenge a European Court of Justice ruling which found a key part of the government's surveillance legislation breaches EU law. Martha Spurrier is director of Liberty, which is acting on behalf of Labour's Tom Watson.
0655
A bionic eye which helps blind patients see again is being backed and further tested by NHS England. Professor Lyndon da Cruz is consultant retinal surgeon at Moorfields Eye Hospital.
0710
A new attempt is being made to speed up the availability of fast broadband in remote and rural areas. The BBC's Zoe Conway reports and Kim Mears is managing director of infrastructure delivery for Openreach.
0715
One of the victims of phone-hacking is launching a legal challenge - to test the government's commitment to press regulation. Steve Hewlett is presenter of The Media Show.
0720
One of the UK's largest pension companies is investing in a scientific research centre. Nigel Wilson is chief executive of Legal and General.
0730
The Tunisian man wanted for the Berlin lorry attack which killed 12 people and injured 49 had been under surveillance earlier this year, according to media reports in Germany. Richard Barrett is former head of counter-extremism at MI6 and Dr Philipp Lengsfeld is Christian Democratic Union MP for the Centre of Berlin.
0740
Doctors and charities have described a new drug to treat multiple sclerosis as a landmark development. Georgina Carr is from the Multiple Sclerosis Society.
0750
Three former cabinet ministers are calling for the prison population in England and Wales to be almost halved. In a letter to The Times, Nick Clegg, Ken Clarke and Jacqui Smith say that prisons have become 'unacceptably dangerous places'. Nick Clegg is former deputy prime minister.
0810
The government says another £440m is to be invested in offering fast broadband connections to people in rural areas. Karen Bradley is secretary of state for culture, media and sport.
0820
The tax rebel Pierre Poujade who started a rural revolt against the national authorities appeared on the cover of Time magazine 60 years ago. The BBC's Europe correspondent Kevin Connolly travelled to Poujade's stronghold in the Lot Valley in south-western France to trace the history of the movement and examine its links to the mood of 2016.
0830
It is looking increasingly likely that a last minute rescue plan for Italy's Monte dei Paschi bank has failed – meaning that a state 'bail in' is inevitable. Ferdinando Giugliano is finance correspondent for La Repubblica.
0835
As the population is getting older, people committing crime are getting older too. But data released to the BBC shows that violent crime committed by those aged over 65 is increasing significantly more than in younger age groups. Dr Simon Harding is senior lecturer in criminology at Middlesex University and Helen Boothman is secretary of the National Association of Independent Monitors.
0840
Can a look back at history help us understand the incredible events of 2016? Today it's the turn of the author and academic Professor Yuval Noah Harari of the University of Jerusalem.
0850
It is almost ten years since Saddam Hussein was hanged. John Nixon is a former CIA analyst who has written the book Debriefing the President: The Interrogation of Saddam Hussein.
0855
This year, BBC Radio 3 challenged amateur composers to create a carol to a medieval English poem. David Hill is judge of the competition. We also hear from the BBC singers and the winner, who has been announced this morning.
All subject to change.