Main content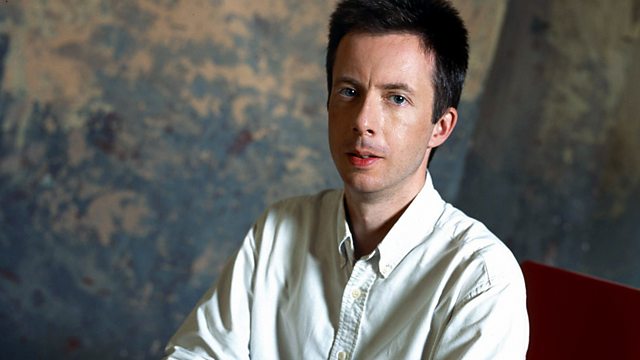 Maria Joao Pires - Chopin with the Swedish Radio Symphony Orchestra
With John Shea. Pianist Maria Joâo Pires plays Chopin with the Swedish Radio SO.
Pianist Maria Joâo Pires plays Chopin with the Swedish Radio S.O. Presented by John Shea.
12:31 AM
Frederic Chopin [1810-1849]
Piano Concerto no.2 in F minor Op.21
Maria Joâo Pires (piano); Swedish Radio Symphony Orchestra; Daniel Harding (conductor)
1:03 AM
Antonin Dvorak (1841-1904)
Symphony no. 9 in E minor Op.95 (From the New World)
Swedish Radio Symphony Orchestra; Daniel Harding (conductor)
1:47 AM
Novak, Vitezslav (1870-1949)
Trio for piano and strings in D minor (Op.27) 'quasi una ballata'
Suk Trio: Joseph Suk (violin), Josef Chuchro (cello), Jan Panenka (piano)
2:04 AM
Britten, Benjamin (1913-1976)
Symphonic Suite from the Opera 'Gloriana'
Peter Pears (tenor), SWF Symphony Orchestra, Benjamin Britten (conductor)
2:31 AM
Mendelssohn, Felix (1809-1847)
Sonata for piano in E major (Op.6)
Sveinung Bjelland (piano)
2:55 AM
Chausson, Ernest (1855-1899)
Poème for violin and orchestra (Op.25)
Igor Ozim (violin), Slovenian Radio and Television Symphony Orchestra, Samo Hubad (conductor)
3:12 AM
de Falla, Manuel (1876-1946)
Noches en los jardines de España
Filip Pavlov (piano), Sofia Symphony Orchestra, Ivan Marinov (conductor)
3:36 AM
Sheppard, John [c.1515-1558], Dove, Jonathan [b.1959]
In manus tuas (Sheppard) & Into Thy Hands (Dove)
Gabrieli Consort, Paul McCreesh (director)
3:47 AM
Picchi, Giovanni (1571/2-1643)
Toccata
Rinaldo Alessandrini (harpsichord)
3:52 AM
Schubert, Franz arr. Schonherr, Max
Marche militaire No.1 in D major (D.733)
Edmonton Symphony Orchestra; Uri Mayer (conductor)
3:57 AM
Purcell, Henry (1659-1695)
The Duke of Gloucester's trumpet suite
Crispian Steele-Perkins (trumpet), The King's Consort, Robert King (director)
4:09 AM
Halévy, Jacques-François (1799-1862)
Aria: "Quand de la nuit l'épais nuage" (from "L'éclair", Act 3)
Benjamin Butterfield (tenor); Canadian Opera Company Orchestra; Richard Bradshaw (conductor)
4:15 AM
Buxtehude, Dietrich [1637-1707]
Toccata for organ in F major (BuxWV.156)
Ludger Lohmann (organ)
4:23 AM
Mokranjac, Stevan (1856-1914)
Eleventh Song-Wreath (Songs from Old Serbia)
RTV Belgrade Choir, Mladen Jagušt (conductor)
4:31 AM
Vivaldi, Antonio (1678-1741)
Concerto for violin and orchestra in F minor (RV.297) (Op.8 No.4), 'Inverno' (Winter)
Elizabeth Wallfisch (baroque violin), Australian Brandenburg Orchestra, Paul Dyer (director)
4:39 AM
Grieg, Edvard (1843-1907)
Lyric pieces - book 1 for piano (Op.12)
Zoltán Kocsis (piano)
4:51 AM
Klami, Uuno (1900-1961)
A Folk Song
Finnish Radio Symphony Orchestra, Erik Cronvall (conductor)
4:55 AM
Monteverdi, Claudio (1567-1643)
Lamento della ninfa (from libro VIII de madrigali - Venice 1638)
Concerto Italiano; Rinaldo Alessandrini (harpsichord & director)
5:00 AM
Ligeti, György (1923-2006)
Six Bagatelles for wind quintet
Cinque Venti: Liesbet Dregelinck (flute); Korneel Alsteens (oboe); Johan Schols (clarinet); Geert Philips (bassoon), Jos Verjans (horn)
5:12 AM
Rimsky-Korsakov, Nikolai (1844-1908)
The Three Wonders from The tale of Tsar Saltan - suite (Op.57)
BBC Philharmonic, Vassily Sinaisky (conductor)
5:20 AM
Faure, Gabriel (1845-1924)
Trio for piano and strings (Op.120) in D minor (1923)
Grumiaux Trio, Luc Devos (Piano), Philippe Koch (Violin), Luc Dewez (Cello)
5:42 AM
Bach, Johann Sebastian (1685-1750)
Suite for orchestra no.1 in C major (BWV.1066)
La Petite Bande, Sigiswald Kuijken (conductor)
6:05 AM
Beethoven, Ludwig van [1770 -1827]
String Quartet in C minor (Op.18 No.4)
Pavel Haas Quartet.