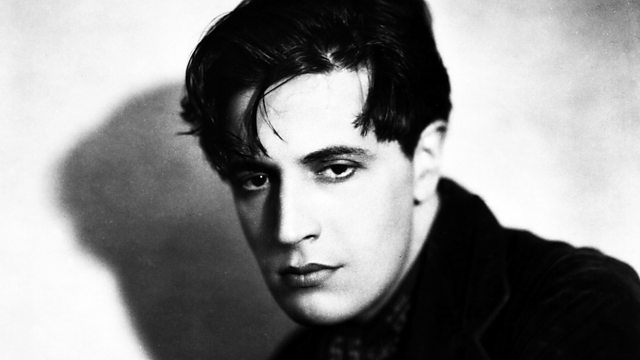 Keep the Home Fires Burning
Ivor Novello becomes a household name during the Great War with Keep the Home Fires Burning. Presented by Donald Macleod
Ivor Novello's Drury Lane musicals were box-office sensations, and more popular than the likes of Oklahoma or Brigadoon. At the height of his career Novello not only had plays and musicals running in London, but also four other productions of his spectacular musicals touring the country, to say nothing of amateur productions as well. Part of the attraction was Novello himself. He was a huge celebrity on both sides of the Atlantic. Novello was an actor and playwright for both stage and screen, credited with coining the phrase Me Tarzan, You Jane, and with his matinee-idol looks he was hailed as the next Valentino. His charisma and infectious personality charmed many, so that when he died, thousands turned out to line the streets to see the hearse pass on its way. This week, a first for Composer of the Week in its over seventy-year history, Donald Macleod luxuriates in the theatrical and charismatic world of Ivor Novello, with many works specially recorded for the series. He's joined by one of Novello's biographers, David Slattery-Christy, and also explores what was once Novello's flat with Billy Differ. Donald also goes behind the scenes in Novello's London theatre-world accompanied by Rosy Runciman, with a trip to the Prince of Wales and Novello Theatres.
David Ivor Davies, who later changed his name to Ivor Novello, was born in Cardiff in 1893. His mother Clara Novello Davies was a singer and music teacher, who had once performed for Queen Victoria at Windsor Castle. Mam soon recognised her son's talents, and so sent young Ivor off to school in Gloucester, and then to Oxford where he was awarded a choral scholarship. Once Novello's voice broke, he left Oxford and soon found himself living in London with his mother, where he taught music and regularly visited the theatre. He started composing songs at this time, and it was in 1914 that he penned his first big hit, the patriotic Keep the Home Fires Burning, which made him a household name during World War One.
Glamorous Night - Overture
New World Show Orchestra
Kenneth Alwyn, conductor
The Dancing Years - Waltz Of My Heart
Christopher Northam, piano
Careless Rapture - The Manchuko
John Stoddart, tenor (Captain Mellish)
Linden Singers
New World Show Orchestra
Kenneth Alwyn, conductor
Spring of the Year
Marilyn Hill Smith, soprano
Gordon Langford, piano
Up There
Kitty Whately, soprano
Simon Lepper, piano
Keep the Home Fires Burning
John McCormack, tenor
The Victor Studio Orchestra
Josef A. Pasternak, conductor
Megan
Kitty Whately, soprano
Simon Lepper, piano
Jerome Kern and Ivor Novello, arr. Henri Jaxon
Theodore and Co - orchestral medley
BBC Concert Orchestra
Keith Lockhart, principle conductor
Theodore and Co - What a Duke should be
Jeremy Northam, voice
Christopher Northam, piano
Theodore and Co - Any Old Where
Kitty Whately, soprano
Simon Lepper, piano
Producer Luke Whitlock.
Last on
More episodes
Previous
You are at the first episode