Main content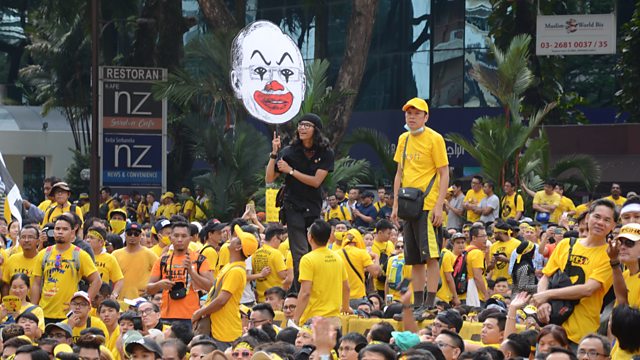 Punk Art and Protest in Malaysia
Malaysia's Banksy, Fahmi Reza, is capturing the public mood with his street art aimed at a government mired in financial scandal. Can art and activism can bring about change?
Malaysia's government is mired in scandal. Billions of dollars have been looted from a state investment fund. The Prime Minister is accused of receiving $681 million into his personal bank account, although he has denied any wrongdoing.
Earlier this year, punk-inspired artist Fahmi Reza captured public dissatisfaction with an artwork caricaturing the PM as a clown. The image went viral, earning Reza comparisons to street-art provocateur Banksy. It also got him arrested and charged, one of an increasing number of Malaysians facing prison as the government ramps up its suppression of free speech and dissent.
James Fletcher travels to Malaysia on the eve of a major protest rally in Kuala Lumpur. The protest movement is known as 'Bersih', meaning 'clean', and over the past few years they've mobilised hundreds of thousands of people on the streets, dressed in yellow t-shirts, to demand transparency, fair elections, and the PM's resignation. This year they're aiming for their biggest turnout yet. Fahmi Reza is designing placards for the protesters, and plans to attend carrying a giant version of his clown carricature.
But the government is doing everything it can to stop the protest. And there's a new threat - pro-government protesters called the "redshirts", who have disrupted rallies with violence and threatened independent media and free speech advocates.
James spends time with all sides as the protest unfolds. Can art and activism bring Malaysians on to the streets and spur change? Or will the government's crackdown, and the more direct methods of the "redshirts", dampen the protests and allow the PM to ride out criticism and stay in power?
Image: The artist Fahmi Reza with his caricature of Malaysia's Prime Minister Najib Razak at the Bersih 5 protest rally held on November 19, 2016.
Photo Credit: BBC