Main content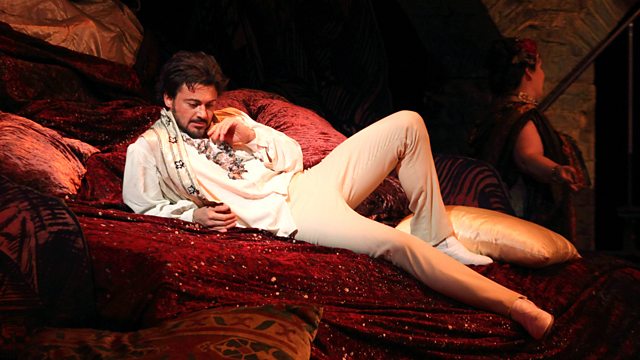 Offenbach's Les Contes d'Hoffmann
A performance of Offenbach's Les Contes d'Hoffmann given at the Royal Opera House, Covent Garden, starring tenor Vittorio Grigolo. Evelino Pido conducts.
Martin Handley introduces a performance of Offenbach's Les Contes d'Hoffmann recorded last month at the Royal Opera House, Covent Garden. Vittorio Grigolo sings the title role in this world of fantasy, as young Hoffmann tells three stories recounting his search for love and his fight against his nemesis, the devil himself, who takes many guises, determined to make him fail. The villains are taken by Thomas Hampson; Olympia, the mechanical doll, is sung by Sofia Fomina; Giulietta, the Venetian courtesan, is Christine Rice; Antonia, the singer, is Sonya Yoncheva, while Nicklausse, the Muse in disguise, is Kate Lindsey. Evelino Pido conducts the orchestra and chorus of the Royal Opera House in this vintage production by John Schlesinger.
Hoffmann.....Vittorio Grigolo (Tenor)
Four Villains.....Thomas Hampson (Baritone)
Olympia.....Sofia Fomina (Soprano)
Giulietta.....Christine Rice (Mezzo-soprano)
Antonia.....Sonya Yoncheva (Soprano)
Nicklausse.....Kate Lindsey (Mezzo-soprano)
Spalanzani.....Christophe Mortagne (Tenor)
Crespel.....Eric Halfvarson (Bass)
Four Servants.....Vincent Ordonneau (Tenor)
Spirit of Antonia's mother.....Catherine Carby (Mezzo-soprano)
Nathanael.....David Junghoon Kim (Tenor)
Hermann.....Charles Rice (Baritone)
Schlemil.....Yuriy Yurchuk (Baritone)
Luther.....Jeremy White (Bass)
Royal Opera House Chorus
Royal Opera House Orchestra
Evelino Pido (Conductor).
Synopsis
Prologue
Nuremberg: Luther's tavern
 Hoffman's talent as a writer is being dissipated in drink, but the Muse of Poetry (who has travelled with him in disguise as his companion, Nicklausse) is not yet ready to abandon him. Hoffmann's latest love, the opera singer Stella, is performing in Don Giovanni at the opera house to which Luther's tavern is attached. Stella's secretary, Andrès, enters with a love letter from her to Hoffmann containing the key to her dressing-room. Councillor Lindorf, a rival for Stella's affections, buys the letter from Andrès and settles down to wait for the performance to end, when he may exploit this advantage.

The interval fills the tavern with students, thirsty for beer and hoping to find Hoffmann ready to entertain them with a story. He arrives with Nicklausse and is quickly persuaded to deliver a comic song about the dwarf Kleinzach, though his mind wanders to thoughts of Stella and he has trouble finishing hs recitation. Already the drink is taking hold and Lindorf seizes the opportunity for some verbal sparring with his rival. It emerges that Hoffmann believes Lindorf to be some kind of agent of evil, always bringing him misfortune. Accused by the councillor of knowing nothing of the heart, Hoffmann declares that he will tell the stories of his three great loves. The company ignores the bell summoning them back to the theatre and settle down to hear the poet speak.
Act I
Paris: Spalanzani's house Spalanzani, a physicist and inventor of automated novelties, is threatened with ruin by the failure of his banker, Elias. He hopes to remedy the situation by exploiting his latest masterpiece, a life-sized mechanical doll he has christened Olympia, when he passes her off as his daughter for the entertainment of Parisian society. The fly in the ointment is Coppélius, who made the doll's eyes and may wish to claim a part of the profits.

Hoffmann, currently Spalanzani's pupil, has glimpsed the doll through a window and is already half in love. Having arrived early with Nicklausse for Olympia's 'coming-out party', he is left alone as Spalanzani and his servant, Cochenille, go to prepare for their guests, and at last glimpses his love face to face. He is enchanted, despite Nicklausse's veiled warning that she is only a machine.Coppélius has come for his money, but instead finds Hoffmann in rapt contemplation of Olympia. He grabs the opportunity to sell the poet a pair of glasses, through which the doll magically appears as if made of flesh and blood. Spalanzani reappears and Coppélius does indeed demand payment but is fobbed off with a credit-note drawn on Elias's failed bank. Scenting further profits, the eye-maker suggests that Hoffmann might even be persuaded to marry Olympia.

The beau monde of Paris sweeps in and Spalanzani is able to put his creation through her paces; both her singing and her dancing are a huge success with the company, despite the odd mechanical glitch. When they move to the supper tables, Spalanzani leaves Hoffmann alone with the doll. Through the filter of his magic glasses, the poet falls deeper in love than ever. She leaves: he follows. Before the band strikes up the waltz for the returning guests, a furious Coppélius storms in vowing revenge for the worthless promissory note he has been given. He destroys Olympia's circuitry and hides to observe the result of his vandalism.The lovers re-enter and are caught up in the dancing, but Coppélius has done his work well and the doll flies completely out of control, flinging Hoffmann aside and smashing his magic glasses. Cochenille and Spalanzani manage to conceal the automaton but Coppélius drags it back into view and dismembers it in front of the scandalized public. Hoffmann can at last see that he has fallen in love with a doll and his first story ends in humiliation as the whole of Paris laughs at his gullibility.

Act II
Venice: Giulietta's palazzo The courtesan Giulietta, accompanied by her twisted creature, Pittichinaccio, is entertaining the demi-monde of Venice; even Nicklausse is drawn into her web. Hoffmann, his appetite grown more jaded, disparages sentimental love in favour of sensual excitement. He is already feeling the power of Giulietta's seduction but their dalliance is interrupted by the arrival of Schlemil, a previous lover from whom Giulietta is not yet entirely disentangled. She appeases him by inviting him to escort her to the Faro tables, allowing Nicklausse to drag Hoffmann away.

Dappertutto is a collector of human spirits. Giulietta has already stolen Schlemil's shadow for him and he now tempts her with a magnificent diamond, demanding in exchange that she bring him Hoffmann's reflection. He hides to observe her do his bidding.The courtesan intercepts Hoffmann in his planned flight from Venice and has no trouble in extracting first an avowal of love and then a promise of his reflection. Hoffmann yields, not understanding that he is merely Giulietta's plaything. Schlemil discovers the pair in a passionate embrace but before the confrontation can turn violent, Dappertutto reveals to Hoffmann that he no longer has a reflection. Once more the poet is forced to realize that he has mistaken infatuation for love, but still he cannot break the spell. Giulietta enters her apartments and Hoffmann confronts Schlemil, demanding the key to her room.

The quarrel escalates into a duel in which Schlemil is killed but, when Hoffmann rushes to join the courtesan, he finds her rooms empty. In despair, he hears her contemptuous departing laugh as she glides past in her gondola, accompanied by the faithful Pittichinaccio.

Act III
Munich: Crespel's house To protect his daughter Antonia from a love affair with Hoffmann that may prove fatal, Crespel has fled with her to Munich. Antonia has inherited from her mother both the voice of an angel and the consumption that is gradually destroying her. Every note she sings brings her closer to death, yet her love for Hoffmann finds its truest expression in her music. Her distraught father once again extracts a promise from her never to sing again.
Hoffmann and Nicklausse have found their way to Crespel's refuge and are welcomed by a deaf old servant, Frantz. Nicklausse tries once again, as the poet's Muse, to persuade Hoffmann that he must transform his heartache into art and thus find consolation. Perhaps this love will redeem him.

The lovers are joyfully reunited and Antonia persuades Hoffmann to let her sing a familiar duet with him. Crespel's return cuts short their tender meeting. Hoffmann hides.To the father's horror, Frantz admits the sinister Doctor Miracle, whom Crespel suspects of having hastened the death of his wife and of being eager to drive his daughter to the same fate. The Doctor demands to see Antonia and, sweeping aside Crespel's objections, enacts a bizarre pantomime in which he examines the empty air as if his patient were actually present. He proposes his own medicine as a cure for Antonia's sickness. Finally he commands her to sing and her voice is heard from within in a single ecstatic phrase. Crespel throws Doctor Miracle out of the house.

From what he has overheard, Hoffmann understands that singing will destroy Antonia's health and he begs her to give it up so that they may be together. Mournfully, she agrees but when the poet leaves, she suspects that he is in league with her father to thwart her yearning for music. The Doctor reappears and paints her a scornful picture of a future oppressed by bourgeois respectability, the prison of motherhood, Hoffmann's inevitable boredom and his infidelity as her beauty fades. Wouldn't she prefer to be a great singer, thriving on the applause and adoration of the crowd? Antonia cannot choose. From the portrait of her mother a voice seems to call to her and, gradually possessed by her dead parent's spirit and compelled by Miracle's demonic music, Antonia sings until she collapses.Crespel returns in time to cradle his dying daughter and accuse Hoffmann of causing her death. For a third time, Hoffmann's love has turned to calamity.

Epilogue
Nuremberg: Luther's tavern Hoffmann's stories are over, as is the opera next door. Finding the poet too drunk to offer further entertainment, the students head off leaving him behind, slumped barely conscious on the tavern table. Stella arrives for her assignation with the poet, only to find him insensible. Lindorf is able to step into the breach and the prima donna leaves with him. The Muse makes one last plea for Hoffmann to dedicate himself to his art.
Christopher Cowell