Main content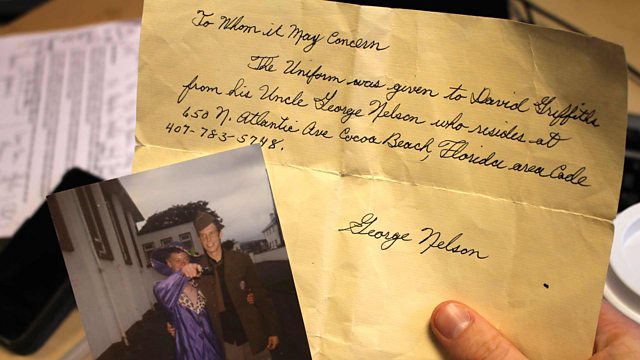 To Whom It May Concern
When he finds a mysterious letter in the pocket of a vintage army jacket, Proinsias O'Coinn is determined to find the jacket's rightful owner.
Proinsias O'Coinn was a teenager on a rare shopping trip to Belfast when he stumbled across a vintage military shop.
Hidden among the old fatigues, army garb and war memorabilia, he found a jacket he just knew he had to have. It smelt old and musty but he didn't care. It seemed different, authentic, well-made, smart - the kind of jacket that someone would have worn with pride. So Proinsias bought it.
On the train on the way home, he put his hand into the pocket and found a letter -
"To whom it may concern. The uniform was given to David Griffiths from his uncle George Nelson who resides at N. Atlantic Ave Cocoa Beach, Florida.
Signed,
George Nelson"
At that moment Proinsias knew he needed to return the jacket to its rightful owner. But more than a decade later, nothing can prepare him for what he's about to discover.
Producer: Conor Garrett.