Main content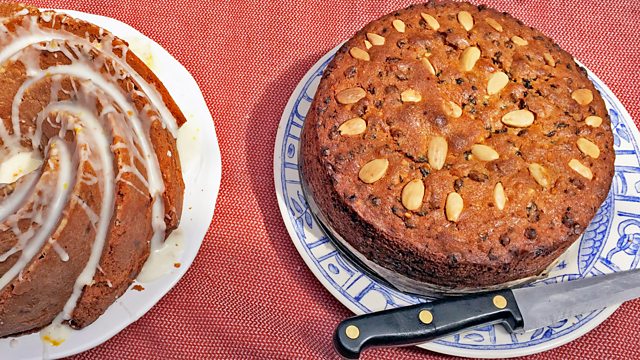 A Passion for Cake
Sheila Dillon takes an irreverent look at baking, and the connection between baking and being a Good Wife and Mother.
In this series of four programmes broadcast over Christmas, Sheila Dillon explores the link between tradition and food.
First, in the run-up to Christmas, she takes an irreverent look at baking - and the connection between baking and being a "Good Wife and Mother. She begins by visiting a "Clandestine Cake Club", which meets every month in a secret location. This month's location takes the theme of the Mad Hatter's tea-party; the members have risen to the challenge and the cakes are truly extravagant. The founder of the cake club, Lynne Hill, sets out her vision for a world brought together by sharing cake. Sheila visits a cake-decorating competition for teenagers, and talks to girls about the particularly feminine lure of cake. She meets a cultural historian of cake, Professor Nicola Humble, whose book on cake traces our current passion back to Elizabethan days, and who explains the long connection between women and cake. But we also have a perspective from a man devoted to cake, former Bake-Off winner John Whaite. He reflects on the connection between gender and cake, and introduces his alternative take on Christmas Cake.
With cake recipes, both ancient and modern, for the website.
Producer: Elizabeth Burke.
Recipes featured in the programme...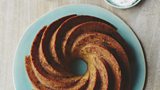 John Whaite's Fig, Pecan and Orange Bundt Cake
From 'John Whaite Bakes At Home', photo: Matt Russell.
This is a thing of great beauty. The texture is moist like a carrot cake, but the flavour is packed with light, zesty orange, the earthy nuttiness of pecans and the gooey, malty sweetness of figs. I like to have it smeared with cream cheese and a spoonful of honey. Even better, if you manage to keep your gannet-like friends from eating every slice, this makes for perfect toast, topped with some boisterous Stilton cheese. The bundt (also known as a gugelhopf) tin you use is your choice, but I recommend one with sharply angled edges. Not only does this look impressive, but because of the sharp edges the sugars caramelize in the cake making it, not crispy, but unbelievably chewy.
Ingredients (serves 12)
250g salted butter, at room temperature
400g light brown soft sugar
Zest of 2 medium oranges
2 large eggs
300ml buttermilk
1 tbsp vanilla bean paste or extract
300g plain flour
2 tsp baking powder
2 tsp ground cinnamon
200g pecan pieces
200g dried figs, roughly chopped
Essential Equipment
23cm/9-inch non-stick bundt tin, sprayed with grease spray or painted liberally with melted butter
Method
Preheat the oven to 170°C/150°C fan/Gas 3.
Place the softened butter in a mixing bowl and add the sugar and zest. Beat together until the sugar is well incorporated in the butter and it is fluffy.
Add the eggs, buttermilk and vanilla and beat in. Sift over the flour, baking powder and cinnamon, and stir in until you have a smooth batter. Fold in the pecans and figs, then scoop into the prepared bundt tin.
Bake for 60–75 minutes, or until a skewer inserted into the centre of the cake comes out clean. Allow to cool in the tin for a good 30 minutes before inverting onto a cooling rack – this will help to create a gorgeous crust on the cake. 
Sheila's "Emergency Cake"
I called it my Emergency cake on the programme because it's what I always make  when I've got to produce a cake quickly. Before that I always called it Margy's cake because the recipe was given to me a long time ago by my neighbour and friend Margy Knutson.
Ingredients
225g softened butter
170g unrefined sugar
4 eggs
225g flour, mix of white and wholemeal is what I use, but all white is ok
170g ground almonds
680g currants
3 tablespoons of wine (sherry, white, whatever you've got…I've used sloe gin to good effect)
15 or so whole almonds for decoration if desired
Method
Line an 8" or 9" cake tin with greaseproof paper.  Heat oven to 150C (130C fan oven) 
Beat sugar and butter together till creamy.
Add flour and beaten eggs alternately.
Stir in rest of ingredients (except for whole almonds) 
Put into cake tin.   Smooth flat.   Add whole almonds in circles if liked (blanched look best, but almonds with skins are also good) 
Cook for up to 2 hours, but test with skewer after 1 1/2 hours.  If browning too fast cover the top loosely with greaseproof or foil.    
Remove when testing skewer comes out clean.   Allow to cool till just warm in tin before turning out onto cooling rack. 
Lynn Hills's Fruit Tea Loaf
Ingredients
350ml Freshly brewed tea such as a fruit Tisane or your favourite tea (strained)
350g Mixed dried fruit such as Currants, Raisins and Sultanas
2 Medium eggs 
200g Light brown sugar
1 teaspoon of mixed spice
270g self-raising flour
Method
Soak the fruit in a large bowl, add the freshly brewed tea and mixed dried fruit and stir well. Cover with a tea towel and leave overnight, to allow all the goodness of the tea to soak into the fruits.
In the morning, preheat the oven to 160 C fan-assisted. Grease and line two x 450g or 1lb loaf tins with baking parchment.
Add the eggs into the soaked mixed fruit and any remaining tea liquid, followed by the sugar. Mix thoroughly.
Sieve the mixed spice and flour together before adding to the fruit mixture. Mix together until well combined.
Pour the cake batter evenly into the prepared tins and bake for 45 – 50 minutes or until baked. Testing the centre of the cake with a skewer until it comes out clean.
Leave in the tins to cool completely before turning out. 
Alternately you can bake this in a 900g or 2lb loaf tin for 60 - 75 mins or until baked. This cake can be made up to a day or two in advance and keeps well for up to a week, if wrapped with baking parchment. 
Credits
| Role | Contributor |
| --- | --- |
| Presenter | Sheila Dillon |
| Interviewed Guest | Lynne Hill |
| Interviewed Guest | Nicola Humble |
| Interviewed Guest | John Whaite |
| Producer | Elizabeth Burke |