Main content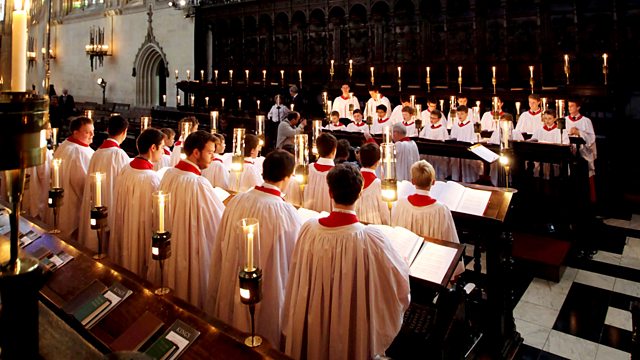 Silence, Black Santa, Syrian Refugees
Composer Bob Chilcott on singing Once in Royal David's City as a chorister in the 60s. The Dean of Belfast Cathedral is the Black Santa. Salford welcomes its first Syrian refugees.
Composer Bob Chilcott remembers his starring role in the Nine Lessons and Carols from Kings College Cambridge in the 1960s. For three years running, he was the chorister chosen to open the service with a solo rendition of the first verse of Once in Royal David's City.
A report from religious think tank Theos argues that it is wrong to measure this country's religious commitment by the numbers who go to church. Edward talks to its author Nick Spencer.
His Grace Bishop Angaelos, General Bishop of the Coptic Orthodox Church in the UK, comments on the bombing and murder of 25 people in St Peter's Coptic Orthodox Church in Cairo.
Trevor Barnes asks whether traditional Christmas is in decline because of political correctness and the impact of immigration on British churches.
Author Mark Forsyth explores the religious roots of today's Christmas traditions.
Father Roger Dawson, Director of the St Beuno's Jesuit Spirituality Centre in North Wales, talks about the new Martin Scorsese film Silence.
William Crawley meets Belfast's 'Black Santa', the Very Rev John Mann, as he starts his annual marathon fund raising stint on the steps of St Anne's Cathedral. It's the 40th anniversary of this Belfast Christmas tradition.
Kevin Bouquet has been to meet a family of Syrian refugees who are being looked after by the Catholic Charity Caritas and their new community in Flixton.
Producers:
Helen Lee
Catherine Earlam
Series Producer: Amanda Hancox.
Last on
Chapters
Theos

A report argues it's wrong to measure religious commitment by the number of churchgoers.

Duration: 04:35

PC Christmas

Is the traditional Christmas in decline because of political correctness?

Duration: 06:33

Christmas Cornucopia

Author Mark Forsyth explores the religious roots of today's Christmas traditions.

Duration: 04:14

Silence

Father Roger Dawson talks about the new Martin Scorsese film 'Silence'.

Duration: 11:21

Black Santa

William Crawley meets Belfast's 'Black Santa' as he starts his annual fund raising.

Duration: 05:13

Coptic Church

His Grace Bishop Angaelos on the bombing in St Peter's Coptic Orthodox Church in Cairo.

Duration: 04:17

Once in Royal

Composer Bob Chilcott remembers his starring role in the Nine Lessons and Carols.

Duration: 03:58

Syrian Refugees

Kevin Bouquet meets a family of Syrian refugees in their new community in Flixton.

Duration: 07:45

Broadcast

All the colours of the rainbow