Main content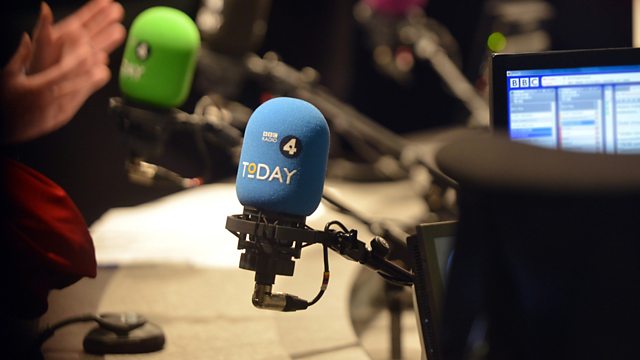 08/12/2016
Morning news and current affairs. Including Yesterday in Parliament, Sports Desk, Weather and Thought for the Day.
Last on
Today's running order
0650
A report which studies so called 'baby boomers' has found older people who stay in paid employment past retirement age or get involved in community or voluntary work are more likely to stay healthier for longer. Professor Dame Sally Davies is Chief Medical Officer for England.
0710
MPs have voted to back the government's plan to start formal talks on Brexit by the end of March next year. Iain Duncan Smith is a former Cabinet minister. 
0715
Her Majesty's Chief Inspector of Constabulary says that the biggest corruption challenge facing the police is the sexual exploitation of victims who turn to the police for help. HM Inspector Mike Cunningham is HM Inspectorate of Constabulary.
0720
Sports Direct has made an announcement about some major changes to the company's organisation. The Institute of Directors has called for changes for some time. Its Director General is Simon Walker.
0730
New rules will ban the advertising of junk food across all children's media from July next year, following a decision by the Committee of Advertising Practice. Jennifer Rosborough is campaign manager and registered nutritionist at Action on Sugar. Shahriar Coupal is director of the Committee of Advertising Practice.
0740
A dramatic drop in giraffe populations over the past 30 years has seen the world's tallest land mammal now classified as vulnerable to extinction. John Doherty is a zoologist, conservationist and researcher at Queens University, Belfast and one of the experts who contributed to the assessment.
0750
British Cycling's policy adviser Chris Boardman, along with other Olympic and Paralympic medallists and the AA, are calling for a 'universal' rule for giving way when turning, in order to create simpler, safer junctions for all road users. Chris Boardman is a retired Olympic champion and Duncan Buchanan is deputy director of policy for Road Haulage Association.
0810
MPs have voted to back the government's plan to start formal talks on Brexit by the end of March next year. Ben Bradshaw is a Labour MP who voted against the motion. Laura Kuenssberg is the BBC's political editor.
0820
Donald Trump has appointed Scott Pruitt as the new head of the Environmental Protection Agency. David Rivkin is a lawyer who's worked with Scott Pruitt in a number of legal cases and was former legal adviser to Bush Senior and Reagan.
0830
A report has revealed that more than 300 police officers have been accused of using their position to sexually exploit people, including victims of crime. Clare Phillipson is director of Wearside Women in Need. Steve Watson is National Police Chiefs lead for counter corruption & chief constable of South Yorkshire Police.
0840
A flashing light therapy could provide a new treatment for Alzheimer's, according to US scientists who have conducted promising trials in mice. Dr Laura Phipps is science communications manager at Alzheimer's Research UK.
0850
An exhibition of paintings and rarely seen drawings of the late architect Zaha Hadid opens today at the Serpentine Sackler Gallery. Hans-Ulrich Obrist, art curator, critic and historian of art. He is artistic director at the Serpentine Galleries.
0855
The Cabinet Office was established a hundred years ago tomorrow, on Friday 9th December 1916, by the Prime Minister David Lloyd George in the darkest days of the First World War. Sir Anthony Seldon is vice-chancellor of the University of Buckingham and author of 'The Cabinet Office, 1916 – 2016, The Birth of Modern Government'. Clare Short is a former Labour MP and Secretary of State for International Development.
All subject to change
Broadcast