Main content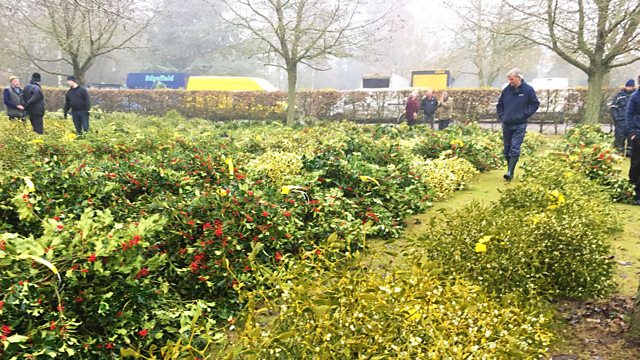 South Yorkshire
Eric Robson and the horticultural panel are in South Yorkshire. Matthew Wilson, Bunny Guinness and Anne Swithinbank answer this week's gardening queries.
Produced by Dan Cocker
Assistant Producer: Laurence Bassett
A Somethin' Else production for BBC Radio 4.
Fact Sheet
Q – Is there a solution for eliminating Wireworms from allotment soil? Or should I give up trying to grow potatoes?
Bunny – Wireworms are normally associated with first year potato growth but if you're still struggling after that try growing them in a straw bale.
Anne – Chickens or a nematode-based control could work
Q – How can I grow a pineapple plant from a pineapple top and will it fruit?
Anne – It's not impossible but you'll need a warm house!  Find a healthy top, cut that off with a bit of the fruity base attached, pop it in a gritty compost inside a polythene bag, firm and water it in.  Keep it in a bright, warm place.  Then gradually take the bag off to leave a small plant that will grow like any other Bromeliad.  But it will take a few years.
Q – We have a golden variegated Privet hedge which is reverting back to green.  Is there anything I can do to stop it?
Matthew – Variegation is typically caused by the instability of grafting a sport onto a rootstock.  I suspect it's going to be patchy and green from now on.
Bunny – Cut it really low – to about 2ft (0.6m) – feed it heavily and then when it grows back it'll be easier to cut out the green ones.  Most hedges, apart from Yew, grow really quickly when cut back
Q – I like to grow annual flowers for cutting.  What should I do over winter? Leave the dead plants in or pull them all out?
Anne – So you're talking about Larkspur and Cornflowers which flower in spring and are dead now.  I'd clear them out and replant annuals from different plant groups.  You can do it with annual poppies…
Matthew - …Ammi majus…
Anne - …Calendula. 
 Q – My Philadelphus shrub never flowers, why? It's 15 years old and I cut it back each year in autumn.
Matthew – You're cutting too early and cutting all the flower buds off! Prune it after flowering.  Same applies to all shrubs that flower early like Viburnum burkwoodii or Forsythia. 
Bunny – Give it a potash feed in spring
Q – I have a couple of Comfrey plants but the leaves are suffering from mildew.  How can I cure organically and what should I do with the diseased leaves?
Bunny – I wouldn't worry; the mildew won't transfer once rotted down. 
Q – We have a two-year-old red 'Falstaff' apple tree growing on M27 dwarf rooting stock which is about 6ft (1.8m) tall.  This spring we had lots of little apples but they didn't drop in June as expected so I thinned. But those remaining haven't developed. Why?
Bunny – The late, dry summer is to blame.  Clear the grass from around the trunk and give it a good mulch
Eric – I had the same with my 'Ribston Pippin'; no June Drop
Q – We have a twelve-year-old Paulownia tomentosa tree.  It's 25ft x 25ft (7.5m x 7.5m).  We need to prune it, what would you advise?
Matthew – This is the 'Foxglove' tree.  You can cut it right back if you want to give it a 'jungly' appearance for growing Canners and bananas through it.  If you want to keep it as a flowering tree then cut it back a bit but it will have a growth spurt right after.
Bunny – They grow on and on (up to 60ft or 18m) so do cut it back
Anne – Or you could just chop it down.  You've had twelve good years from it! Liquidambars and Nyssas are also great to grow but get rid of them after 15 years.
Q – I have a new compost heap. Do I need a shredder for Christmas?
Anne – I don't think so
Bunny – I think it is unnecessary
Matthew – For domestic use I wouldn't bother