Main content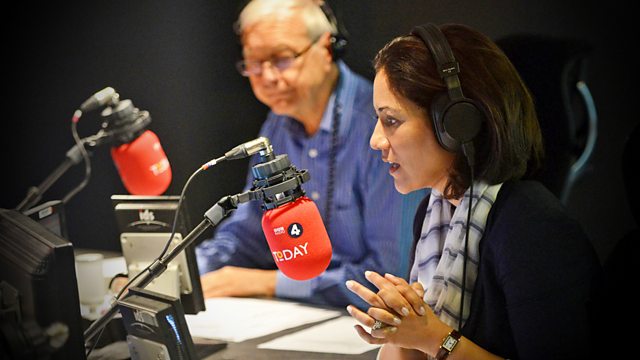 16/12/2016
Morning news and current affairs. Including Yesterday in Parliament, Sports Desk, Weather and Thought for the Day.
Today's running order
0650
The Public Accounts Committee has released a report saying children are being left "at risk of harm" because of the government's failure to develop a plan to improve protection services. Meg Hillier is chair of the Public Accounts Committee.
0655
Synthetically grown 'off the shelf' bone could soon be a reality for landmine blast survivors thanks to a £2.8m regenerative medicine project at the University of Glasgow. Professor Manuel Salmeron-Sanchez is chair of biomedical engineering at Glasgow University.
0710
The EU's 27 other leaders met without British Prime Minister Theresa May to discuss their plans for the upcoming Brexit negotiations. Katya Adler is the BBC's Europe editor and Stephan Mayer is Home Affairs spokesperson for Angela Merkel.
0715
Should people who are conned into transferring money from their bank account be better protected? Hannah Nixon is managing director of the Payment Systems Regulator.
0720
The future of Monarch Airlines was in question earlier in the year when it was seeking a big cash investment. Andrew Swaffield is CEO of Monarch Airlines.
0725
A fragile ceasefire appears to be holding in eastern Aleppo in Syria, from where around 3,000 people have been evacuated. Fares Shehabi is MP for Aleppo and chairman of the Syrian Federation of the Chambers of Industry.
0730
The NSPCC revealed this week that more than 1,700 people have now called the hotline set up to hear any allegations of child sex abuse in football clubs. One alleged victim is Gary Stray, a former Southampton youth team player who has waived his right to anonymity.
0740
The Elizabeth Tower, also known as Big Ben, is closing to the public today. The Today programme's Nicola Stanbridge took a last trip up the tower before works begin.
0750
Scotland's Draft Budget yesterday was the first one in centuries that included provisions for raising their own taxes. Derek Mackay is Scotland's finance secretary.
0810
A fragile ceasefire appears to be holding in eastern Aleppo in Syria, from where around 3,000 people have been evacuated. The BBC's Mike Thomson reports and Lord David Richards is former Chief of the Defence Staff.
0820
Facebook is taking new measures to curb the spread of fake news on its huge and influential social network. Amol Rajan is the BBC's Media Editor.
0830
There have been demonstrations at Victoria station on Thursday night, as talks aimed at ending the Southern rail strikes have ended without a deal. Sara Beare is a commuter who we spoke to on the programme yesterday. She has taken a different route into work this morning. Andy McDonald is Labour's shadow transport minister.
0835
The BBC has now spoken to more than 10 players who are alleging abuse at Southampton Football Club. Lord Herman Ouseley is chair of Kick It Out, football's equality and inclusion campaign.
0840
Every week it seems we hear about a murder or rape case that has been cracked years later - usually as a result of advances in forensic science. In the first of two special reports on cold cases, the BBC's home affairs correspondent Danny Shaw reports.
0850
The end of the battle of Aleppo seems imminent - but that won't be the end of the Syrian conflict. Rosemary Hollis is professor of International Politics at City University and Hayder Al-Khoei is visiting fellow at the European Council on Foreign Relations.
0855
The assumption is regularly made that while Jane Austen remains an all-time master storyteller, her writing fails to engage with the momentous political events of her day. But an exhibition which comes out next year at Oxford's Bodleian Library is setting out to challenge this view. Kathryn Sutherland is professor of bibliography and textual criticism at the University of Oxford and Madeline Slaven is head of exhibitions at the Bodleian Libraries.
All subject to change.