Main content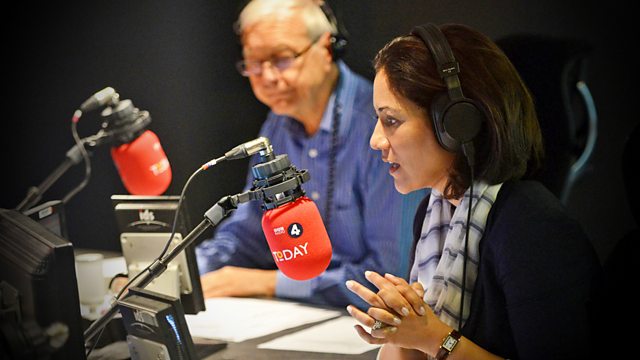 15/12/2016
Morning news and current affairs. Including Yesterday in Parliament, Sports Desk, Weather and Thought for the Day.
Today's running order
0650
Passengers on Southern and Gatwick Express have been warned to expect services to be severely disrupted again today. Sara Beare and Briona Day are both commuters who use Southern Rail.
0655
The robin is arguably the nation's favourite bird, but scientists believe the song and behaviour of robins is being affected by light and noise pollution. Frances Mullany was the lead researcher on the study.
0710
The impact of war on civilians is meant to be reduced by international law. The idea of innocent civilians targeted and slaughtered seeming horrific to most people, yet that is happening in eastern Aleppo. Mike Thomson reports and Stephen O'Brien is United Nations Under-Secretary-General for Humanitarian Affairs and Emergency Relief Coordinator.
0715
Yahoo has said more than one billion user accounts may have been affected in a hacking attack dating back to 2013. Names, phone numbers, passwords and email addresses were stolen, but not bank and payment data. Professor Peter Sommer is a cyber security expert.
0725
The University of Bristol is going to guarantee more places for disadvantaged students, who are four time less likely to apply to university than young people from wealthier backgrounds. Lee Elliot is chief executive of the Sutton Trust and Professor Judith Squires is Pro Vice-Chancellor of Bristol University.
0730
The BBC has learned that Sir Ivan Rogers, the British Ambassador to the EU, has told the government a final trade deal might not be done for ten years. Even after that it may ultimately fail. Laura Kuenssberg is our Political Editor and Conservative MP Dominic Raab backed the vote to leave.
0740
The Soviet Union was held together for 70 years by an official ideology: communism. But what replaced it? Steve Rosenberg is our Moscow correspondent.
0750
The government is expected to announce measures to let councils front-load council tax rises specifically earmarked for social care. Jill Colbert is Trafford Council's Interim Corporate Director of Children, Families and Well-Being and Ray James is Immediate Past President of the Association of Directors of Adult Social Services in England.
0810
Mike Thompson has been speaking to The White Helmets, the volunteer rescue workers credited with saving thousands of lives amid the bombardment of Aleppo. Vitaly Milinov is a Russian MP, Baroness Amos was the UN Under-Secretary-General for Humanitarian Affairs and Emergency Relief Coordinator and Jeremy Bowen is our Middle East Editor.
0820
The campaign to get the Netherlands out of the EU - dubbed Nexit - has been gathering pace ever since British voters opted for Brexit. Anna Holligan reports.
0830
The public is being put at "undue risk" under a new system of monitoring offenders, says a highly-critical report on probation in London. Dame Glenys Stacey is Chief Inspector of Probation.
0840
Nintendo launches "Super Mario Run" on Apple mobile devices today, after previously shunning mobile technology in favour of its own consoles. In the era of the smartphone, is the death of the console inevitable? Rob Leadham is Editor of Stuff magazine and Naomi Alderman is a games designer.
0845
Euthanasia has been legal in Belgium for well over a decade. Eleanor Oldroyd has spoken to Marieke Vervoort, a wheelchair racer and Paralympic champion who has signed papers to legally allow her to end her own life.
0850
The Defence Secretary Michael Fallon is hosting a meeting of the Global Coalition against Daesh in London. Lyse Doucet is our international correspondent, Karin Von Hippel is RUSI Director General and Zahed Amanullah is Head of Counter Narratives at Institute for Strategic Dialogue.
All subject to change.