Main content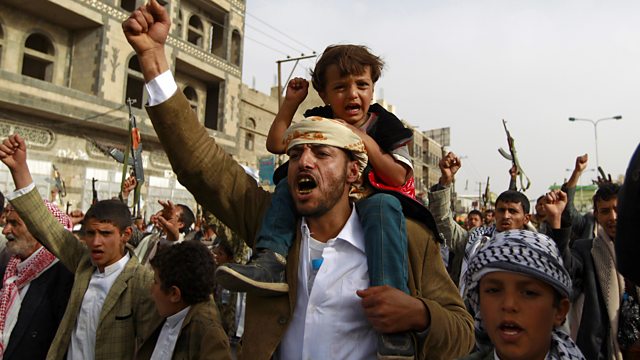 Yemen: A Global Conflict
Yemen is in crisis. The Disasters Emergency Committee has launched a major appeal for donations. But who is fighting in this civil war and why is it a global issue?
Civil war in Yemen has become a full regional conflict, with global implications - but how did it start in the first place?
This week the Disasters Emergency Committee launched a major appeal for aid, with Yemeni children dying of malnutrition following 20 months of war.
But what are the causes of Yemen's civil war and who is fighting? Is it correct to describe it as a "proxy war" between Saudi Arabia and Iran?
David Aaronovitch is joined by two experts with intimate knowledge of Yemen to explain the back-story behind the conflict.
CONTRIBUTORS:
Dr Elisabeth Kendall, Senior Research Fellow in Arabic at the University of Oxford
Safa al-Ahmad, journalist and documentary maker.
Producer: Hannah Sander
Researchers: Beth Sagar-Fenton & Kirsteen Knight
Why is it so difficult to find peace in Syria, and what is getting in the way of a deal?

Turkey's president says the Gulen movement was behind a recent coup attempt - what is it?