Series 1
The UK's leading inventors create ingenious new solutions to everyday problems and build life-changing solutions for people in desperate need.
On iPlayer
This programme is not currently available on BBC iPlayer
On TV
There are no upcoming broadcasts of this programme
Last on
Wed 8 Feb 2017 00:25
BBC Two
Emma's Watch
Emma's watch is an early prototype and we are currently exploring opportunities for it to be developed further so that it might be available to more people in future. If you have Parkinson's and you are interested in getting involved with any potential research and development, please email us with your full name, contact number and email address to:
emmaswatch@studiolambert.com
Related Organisations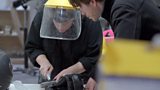 Communication Matters
Communication Matters is committed to supporting people of all ages who find communication difficult because they have little or no clear speech.
Shine
Shine provides specialist support from before birth and throughout the life of anyone living with spina bifida and/or hydrocephalus.
Royal Hospital for Neuro-Disability
Royal Hospital for Neuro-Disability support people that live with acquired or traumatic brain injury, neuro-disability or long-term neurological conditions.
Cystic Fibrosis Trust
Cystic Fibrosis Trust are working towards a brighter future for everyone with cystic fibrosis by funding cutting-edge research, driving up standards of care and supporting people with the condition and their loved ones every step of the way.
AbilityNet
AbilityNet is a UK charity that helps older people and disabled people of all ages use computers and the internet to achieve their goals at home, at work and in education.
Reach
Reach provides resources, support and practical information for children and their families with upper limb difference.
Steps
Steps are the national charity working for all those whose lives are affected by childhood lower limb conditions.
Stroke Association
Stroke Association is the UK's leading stroke charity changing the world for people affected by strokes.
Remap
Remap custom-makes equipment to help disabled people live more independent lives
Parkinson's UK
Parkinson's UK is a leading charity supporting those with the condition. Its mission is to find a cure and improve life for everyone affected by Parkinson's through cutting edge research, information, support and campaigning. The charity has a free, confidential helpline service staffed by trained advisers and specialist nurses who offer advice, information and support.
DEBRA
DEBRA is the national charity that supports individuals and families affected by Epidermolysis Bullosa (EB)