Main content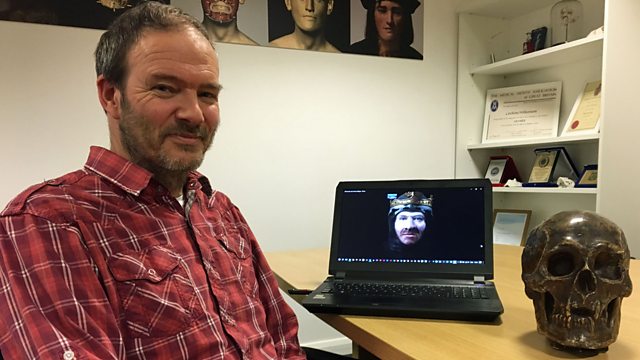 Ceann an Righ/The King's Head
A' sealltainn aghaidh sàr-rìgh na h-Alba, Raibeart Brus. Historian Martin MacGregor reveals the face of Scotland's greatest king, Robert the Bruce.
Bha ùidh riamh aig an eòlaiche eachdraidh Màrtainn MacGriogair anns an Rìgh Raibeart Brus. Mu dheireadh thall tha e a' tighinn aghaidh ri aghaidh leis - le taic bhon Oll. Caroline Wilkinson, eòlaiche ann an ath-chruthachadh aodainn a cnàmhan claiginn.
For the first time in almost 700 years Scots will be able to look into the face of Robert the Bruce, the warrior King who won Scotland's independence at the battle of Bannockburn in 1314.
Ceann an Rìgh (The King's Head), follows Britain's leading expert on craniofacial reconstruction, Professor Caroline Wilkinson, as she uses cutting edge digital technology to create a 3D portrait of Bruce. 'Our finished head reveals a very strong, robust-looking male', says Caroline.
Bruce has been depicted for centuries in paintings, sculptures and films - without anybody actually knowing what he looked like. The quest to reveal his face was launched by Dr Martin MacGregor, a historian at Glasgow University. Martin has been obsessed with Bruce for decades and was inspired by Caroline Wilkinson's work on other historical figures, including Richard III and Mary Queen of Scots.
Clips