Main content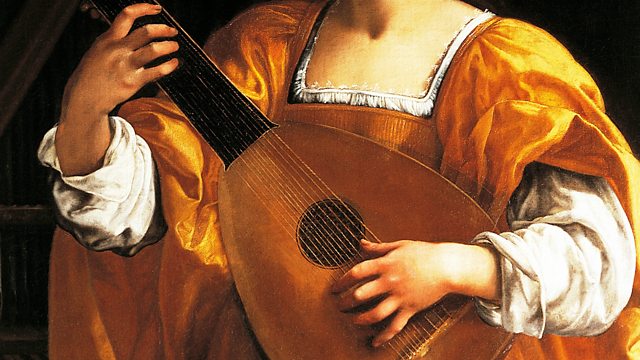 A Lifetime of Service
Francesca Caccini is denied her freedom by the Grand Duchess Christine de Lorraine
Francesca Caccini is denied her freedom by the Grand Duchess Christine de Lorraine, presented by Donald Macleod.
Francesca Caccini has been hailed as the first female composer to write an opera. However this isn't necessarily true. The work in question, La Liberazione di Ruggiero dall'isola d'Alcina, was written for the theatre and is almost entirely sung, but academics now believe that this is not an opera. What we do know is that Francesca Caccini was the daughter, sister, wife and mother of a family of singers, and was one of the most prolific composers of her time. She was employed at the Medici court in Florence in the early seventeenth century, and rose to become the highest paid musician on the Medici payroll. This week Donald Macleod explores the life and music of Francesca Caccini and her circle, such as her father Giulio Caccini, and other composers including Jacopo Peri, Lorenzo Allegri, and Marco da Gagliano.
Francesca Caccini's first husband died in 1626, which left her future and the future of her daughter in a precarious state. She decided to marry again, and this time to a man of property, Tommaso Rafaelli, a minor nobleman of Lucca. Although there was a further child, this time a son, the marriage only lasted a short time as her second husband died in 1630. Francesca Caccini was now a woman of some property, and she lobbied the Medici court to relinquish any rights of custody to her daughter Margherita. As Francesca was employed by the Medici when her daughter was born, with the death of Caccini's second husband, the supervision of Margherita reverted to the Medici court. Caccini's appeal was accepted. She and her family soon returned to Florence to work for the ailing Grand Duchess Christine de Lorraine. However, Francesca's second petition to the Grand Duchess to be made a lady of the court, was refused. Caccini remained a servant until her death.
Dispiegate guance amate
Raffaele Pe, countertenor
Chiara Granata, triple harp
David Miller, theorbo
Ch'Amor sia nudo
Elena Cecchi Fedi, soprano
Cappella di Santa Maria degli Angiolini
Gian Luca Lastraioli, theorbo and conductor
Che t'ho fatt'io
Elena Cecchi Fedi, soprano
Cappella di Santa Maria degli Angiolini
Gian Luca Lastraioli, theorbo and conductor
Non so se quell sorriso
Elena Cecchi Fedi, soprano
Cappella di Santa Maria degli Angiolini
Gian Luca Lastraioli, theorbo and conductor
Jesu corona virginum
Marilena Zlatanou, mezzo
Lars Henrik Johansen, organ
Maria, dolce Maria
Regula Konrad, soprano
Il Desiderio
O chiome belle
Shannon Mercer, soprano
Sylvain Bergeron, guitar
Amanda Keesmaat, cello
Io mi distruggo
Shannon Mercer, soprano
Sylvain Bergeron, guitar & theorbo
Amanda Keesmaat, cello
Luc Beauséjour, harpsichord
S'io m'en vò
Shannon Mercer, soprano
Sylvain Bergeron, guitar
Amanda Keesmaat, cello
Luc Beauséjour, organ
Marco da Gagliano
O admirabile commercium
Ensemble Jacqves Moderne
Joël Suhubiette, director
Marco da Gagliano
Vere languores
Ensemble Jacqves Moderne
Joël Suhubiette, director
Francesca Caccini
La Liberazione di Ruggiero dall'isola d'Alcina (excerpts)
The Toronto Consort
Producer Luke Whitlock