Main content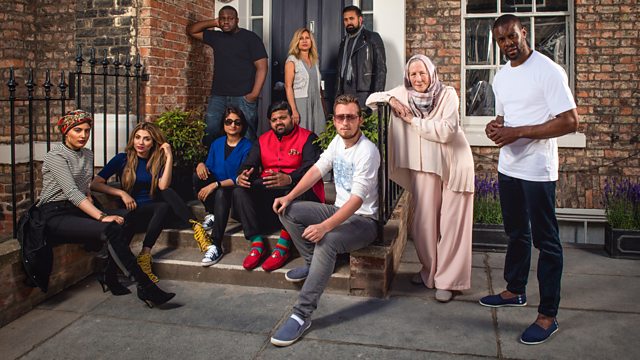 'Muslims Like Us'; Italian Women and the Calabrian Mafia;
BBC2 series Muslims Like Us, Italian women and the Calabrian Mafia, fiscal policy and equality, 91 Ways in Bristol and author Sara Stewart's book Whilst I Was Out.
On the surface, Britain's 2.7 million Muslims are united in faith. In a two-part BBC Two series, Muslims Like Us, ten British Muslims with contrasting world views move into a house together. Their passionate debates, honest disagreements, humour and insights reveal what is like to be a British Muslim today. Jane is joined by Zohra and Saba, two of the women who were filmed for the show and BBC Commissioning Editor, Fatima Saleria, to explain why she wanted to create the programme in the first place.
For two years Connie Agius, investigative reporter for the Australian Broadcasting Company, or ABC, has been examining the treatment of Italian women within the Calabrian mafia, known as Ndrangeta (n-drun-ɡet-a). She joins Jane to reveal what she has found out.
91 Ways is a group in Bristol who run a pop up café and supper club evenings aiming to break down the barriers between different communities in the city. 91 different languages are spoken throughout Bristol and founder Kalpna Woolfe thought that talking about food would help them to start talking together. Sarah Swadling went to meet Kalpna and her volunteers.
At the end of November, just before the Chancellor of the Exchequer, Philip Hammond, delivered his Autumn Statement, the cross-party Women & Equalities Select Committee issued a report calling on the government to do more to assess, and share information on, the unfair impact of economic policy on women and ethnic groups. They want greater transparency to assess the impact of policy change on equalities. To discuss the impact of economic policy on women and ethnic groups and the need for a careful and published audit, Jane is joined by Dr Eva Neitzert, Director of the Women's Budget Group, and Dawn Butler MP, Shadow Minister for Diverse Communities.
Recently we've covered the stories of women who found a same-sex partner in later life, but had previously been in happy heterosexual relationships. Sara Stewart felt pushed into a heterosexual marriage by her mother and spent many years suffering domestic abuse and a descent into alcoholism. Now sober for 10 years and happily married to a woman, she has written a fictionalised account of her own experiences called Whilst I Was Out.
Presenter: Jane Garvey
Producer: Kirsty Starkey.
Chapters
Muslims Like Us

Duration: 11:35

The Italian Mafia and Violence Against Women

Duration: 09:18

Fiscal Policy and Equality

Duration: 07:29

Whilst I Was Out

Duration: 08:17

Credits

| Role | Contributor |
| --- | --- |
| Presenter | Jane Garvey |
| Producer | Kirsty Starkey |
| Interviewed Guest | Fatima Salaria |
| Interviewed Guest | Zohra |
| Interviewed Guest | Saba |
| Interviewed Guest | Connie Agius |
| Interviewed Guest | Kalpna Woolfe |
| Interviewed Guest | Dawn Butler |
| Interviewed Guest | Eva Neitzert |
| Interviewed Guest | Sara Stewart |