Main content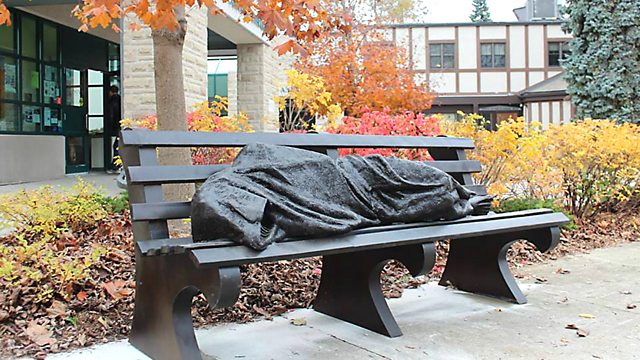 Trafficked women refuge, Homeless Jesus, Singing carols for good health.
Religious and ethical news.
After a 2 year search the Canadian sculptor, Tim Schmalz, has finally found a UK home for his life size sculpture of Jesus sleeping on a park bench. The Rt Rev David
Walker, Bishop of Manchester tells Edward why he has backed the placing of the statue outside St Ann's Church in the city centre.
Singing Carols are good for your health say the British Lung Foundation. Matthew Hamilton, the Choral Director of the Halle Choir, sits at the piano, sings a few Carols and puts this theory to the test.
Rev Charlotte Bannister-Parker takes a personal look at the stigma and fear of violence suffered by gay Christians in South Africa. Rt Rev Bethlehem Nopece, Bishop of Port Elizabeth in South Africa responds.
An order to seize church property owned by the Council of Assemblies of God churches has been issued by the Iranian government. They say that this branch of the largest global Pentecostal denomination is funded by the CIA to infiltrate the Islamic world. Mansour Borji from Article 18 explains.
Sunday has been given exclusive access to Bakhita House, a support centre for trafficked women formed from a partnership between the Catholic Church and the Metropolitan Police. Kati Whitiker reports.
This week, Angela Merkel called for a ban on full-face veils and has said that Sharia law and "parallel societies" should not be allowed in Germany. She also vowed that she would not allow another huge influx of migrants. Why does Europe's matriarch and moral conscience appear to have turned on Germany's Muslim refugees? Dr Katharina Karcha, from the University of Cambridge, talks to Edward about Angela Merkel's speech.
Producers: Carmel Lonergan
David Cook
Series Producer: Amanda Hancox.
Clips

Chapters
Merkel Populist Vote

What are we to make of Angela Merkel's new message about Islam?

Duration: 04:51

Bhakita House

Sunday have been given rare access to a support centre for trafficked women.

Duration: 07:28

Iran

An order to seize property owned by the Council of Assemblies of God has been issued.

Duration: 04:16

Homeless Jesus

After a 2 year search sculptor Tim Schmalz has finally found a home for his homeless Jesus

Duration: 05:20

Gay Christians In South Africa

A look at the stigma and fear of violence suffered by gay Christians in South Africa.

Duration: 14:00

Carols For Good Health

The British Lung Foundation says singing Christmas carols is good for your health.

Duration: 06:15