Main content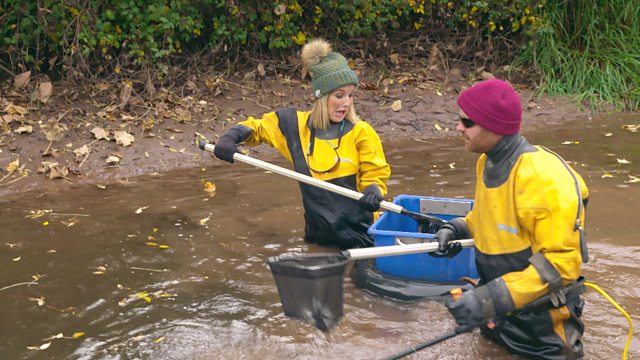 Brecon Beacons
The team explores the Brecon Beacons. Matt Baker discovers geocaching, a treasure hunt with a modern twist, and meets an artist whose canvas is the night sky.
The Countryfile team explores the Brecon Beacons.
Matt Baker discovers geocaching, a treasure hunt with a modern twist, and meets an artist whose canvas is the night sky.
Helen Skelton is sheep trekking across the landscape and taking part in a rather muddy fish rescue.
Ellie Harrison is in Worcestershire to meet a farmer with a difference. Ken Nelson has a two acre worm farm, and Adam Henson finds out about a cancer cure for man's best friend.
Tom Heap asks how safe horses and riders really are on country roads and if more should be done to protect them.
Music Played
Timings (where shown) are from the start of the programme in hours and minutes
Geocaching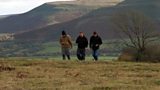 Matt Baker's on 21st century treasure hunt in the heart of the Brecon Beacons when he meets the National Park's Geo-Caching Officers Ilona Carati and Billy Morgan for a day of digital discovery. Also joining Matt is Darren Day, a local geo-caching enthusiast who has gone to the ends of the Earth in search of caches and voluntarily monitors and maintains them across South Wales. Will Matt take to geocaching and find hidden treasure, or will he be left empty handed in the Welsh countryside?
Sheep trekking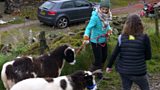 Sheep farming has played a significant role in the history of the Brecon Beacons. Today the  National Park remains criss-crossed with drover's roads from times gone by, when cattle and sheep were taken to market from the high mountain pastures. Helen Skelton meets local hill farmers, Paul and Liz Matthews, who have diversified from traditional sheep farming, and offer a very different experience in the hills and on the paths of the mountain pastures.  
Horses and cars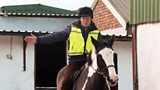 Every day on average there's at least one incident on Britain's roads involving horses, in fact, in the last five years 36 riders and 181 horses have been killed. Tom Heap meets Gillian Singleton who was hit by a car while riding in Snowdonia she was injured and her horse Digby died on the side of the road. Tom then catches up with Sarah Philips from the British Horse Society to find out if the laws surrounding horses on our roads should be changed.      
Worm farming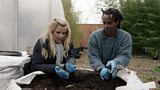 Ellie's in Worcestershire meeting a farmer with a difference. Ken Nelson farms a two acre site, his harvest? Worms. These humble invertebrates were recognised by Darwin as one of the most important creatures in the history of the world. By breaking down dead organic matter they release nutrients from dead plants and animals and make them available for living plants. As a result Ken has long list of gardening clients keen to produce the finest soils.
Dogs with cancer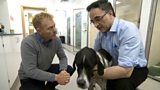 A few weeks ago Adam's dog Dolly sadly developed cancer and had to put to sleep, so this week Adam's looking at the treatment available to dogs suffering from cancer. He meets up with TV vet Noel Fitzpatrick who's started a new hospital specifically designed to treat animals with cancer. Adam's introduced to Fudge, Lola and Archie all of whom are benefiting from the latest technology.
Fish rescue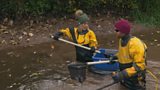 The Mon & Brec canal is the most popular attraction in the Brecon Beacons National Park. For those not wanting to take on a mountain, it offers a more gentle and relaxed route through the Usk Valley. The 220-year-old waterway is in need of some major renovation and Helen is on hand to help and what's the first task of major canal works? Rescuing all the fish! Helen meets up with cousins Josh and James Kirk, dons her waders and dips in to lend a helping hand.  
Discover the Mon and Brec for yourself
Light painting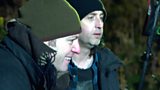 As the sun sets over the Brecon Beacons, Matt Baker discovers another beauty in the landscape… the dark skies that were awarded international status back in 2012. Matt meets South Wales light artist and photographer Michael Bosanko to create something special with this magnificent backdrop. Michael creates extraordinary images by 'painting with light' and with Michael's help, Matt creates his first ever light painting.
Credits
| Role | Contributor |
| --- | --- |
| Presenter | Matt Baker |
| Presenter | Ellie Harrison |
| Presenter | Helen Skelton |
| Presenter | Adam Henson |
| Executive Producer | William Lyons |
| Series Producer | Joanna Brame |