Main content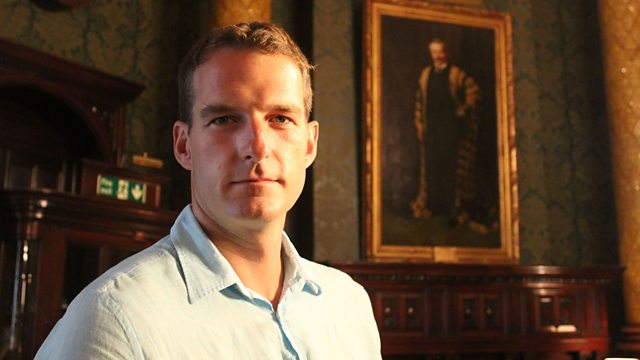 Dan Snow on Lloyd George: My Great-Great-Grandfather
Historian Dan Snow explores the life of his forebear David Lloyd George, the British prime minister at the end of the First World War, when he was hailed as a national hero.
At the end of the First World War, Britain's prime minister David Lloyd George was a national hero, hailed as 'the man who won the war'. A hundred years after he became PM, Lloyd George's great-great-grandson Dan Snow explores his famous forebear's life and asks why he's not better remembered, why he's not as famous a wartime leader as his friend and protege Winston Churchill. It's a tale of sex and scandal, success and failure, with Dan discovering some home truths from his family's history.
Dan's journey starts in north Wales in the village of Llanystumdwy, where Lloyd George was raised by his uncle after his father's death. It's an area Dan knows well from childhood holidays visiting his grandmother. He climbs Moel y Gest, a rocky outcrop overlooking the sea, a view virtually unchanged since Lloyd George's day. Taking the Ffestiniog railway up into the mountains Dan travels in Lloyd George's own railway carriage, reputedly a place when he would enjoy some private time with his secretary.
Like Lloyd George, Dan journeys from Wales to Parliament, filming in the House of Commons where his ancestor made such an impact. Initially Lloyd George was a radical Liberal, causing outrage by opposing the Boer War in 1899, but ten years later he was chancellor of the exchequer, introducing some of the most important legislation of the early 20th century. His budget of 1909 brought in national insurance and old age pensions and, as his biographer Roy Hattersley tells Dan, laid the foundations of the welfare state.
When Britain went to war in August 1914, Lloyd George was a pivotal member of the cabinet. Historian Margaret Macmillan, an expert on the First World War and another descendant of Lloyd George, points out that if he'd come out against the war the Liberal government would have fallen. Once war was declared Lloyd George was important in recruiting the new citizen's army, making speeches across the country. But in private he was making sure his sons didn't volunteer straightaway, another example of Lloyd George's double dealing.
Lloyd George's private life is as famous as his politics. Before the war he had a string of affairs, but by 1914 he was involved with his secretary Frances Stevenson. Half his age, she was a pioneering female civil servant and a constant companion during the First World War. Meeting her biographer John Campbell, Dan discovers some shocking secrets about their relationship during the war years.
Lloyd George's most significant work in the early years of the war was in munitions production. Britain, like all the other warring countries, was running out of shells. He revolutionised the war economy, creating a huge workforce, including many women, to produce the vast numbers of guns and ammunition needed to wage total war. Dan visits an engineering works in north Wales which in 1917 was turned over to armaments production.
But Lloyd George's dynamism wasn't reflected in the rest of the government, especially the prime minister Herbert Asquith. At the end of 1916 after the failure of the Somme, matters came to a head and Asquith was forced to resign to be replaced by Lloyd George. He was the first man from such humble origins to become prime minister.
In spring 1918, the Germans broke through and almost reached Paris, but the Allies fought back. This is when Lloyd George's war machine came into the effect - the huge amount of munitions he helped create, along with the newly arrived American troops, forced the German army into retreat, finally signing the Armistice on 11 November 1918.
In 1918, Lloyd George was wildly popular and re-elected by a landslide, but his postwar career was less successful. Dan visits the Hall of Mirrors at the Palace of Versailles where Lloyd George signed the famous treaty, but many think that this fuelled German resentment and led to the Second World War 20 years later. At home, the 'land fit for heroes' which Lloyd George had promised didn't materialise and there was a postwar slump. When it was revealed that he'd sold honours to fund his Liberal Party his days were numbered, and he was finally ousted by his Conservative coalition partners in 1922.
Until his death in 1945 Lloyd George was a figure in the wilderness, never returned to power and further damaging his reputation with an ill-advised visit to Hitler in 1936. He was, as Dan concludes, a flawed hero, but one from whom he's proud to be descended.
How Lloyd George transformed the nation in both peace and war before falling from power.
Credits
| Role | Contributor |
| --- | --- |
| Presenter | Dan Snow |
| Producer | Steve Freer |
| Director | Steve Freer |
| Executive Producer | Roger Farrant |