Main content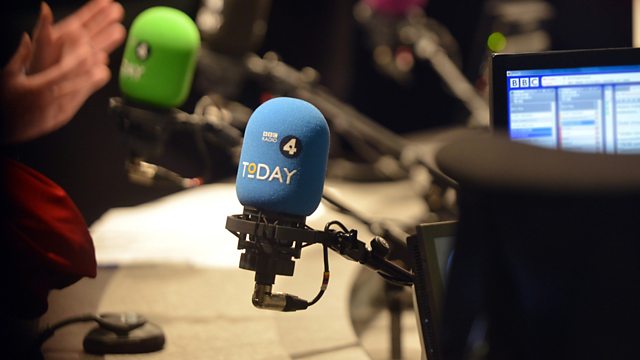 24/11/2016
Morning news and current affairs. Including Yesterday in Parliament, Sports Desk, Weather and Thought for the Day.
Last on
Today's running order
0650
In his Autumn Statement Philip Hammond said growth predictions had been cut as a result of the Brexit vote. Paul Johnson is director of the Institute for Fiscal Studies.
0655
A study conducted by scientists at Reading University has concluded that the ice around the Antarctic has barely changed in a century. Sammie Buzzard is a climate researcher at the University of Reading.
0710
There have been increasing concerns about the involvement of the US in NATO following comments made by President-elect Donald Trump during his campaign. Jens Stoltenberg is NATO's Secretary General.
0715
The Office for Budget Responsibility revealed a stark warning yesterday that over the next five years the UK would have to borrow £59bn more because of leaving the EU.  Anne-Marie Trevelyan is Conservative MP for Berwick-Upon-Tweed and a Leave campaigner.
0720
Former football players have come forward to say they were sexually abused as children by football coaches in the 1970s and 1980s. Mark Palios is former chief executive of the FA.  
0730
The government have thrown out nearly all of its manifesto pledges on the economy. John McDonnell is shadow chancellor.
0740
Research from the Technical University of Eindhoven suggests that if you want to swim fast, you should swim with your fingers slightly splayed apart. Dr Yumnah Mohamied  is a physicist from Imperial College and Duncan Goodhew is a former Olympic swimmer.
0750
A court in England has sentenced a man to jail for the rest of his life for murdering the Labour MP, Jo Cox. Thomas Mair shouted "Britain first" as he shot and stabbed Mrs Cox in her constituency in the north of England.  Vidhya Ramalingam is director of Moonshot CVE, an organisation that works with communities and governments to trial and test new methods of how to fight right wing extremism. Will Baldet is Prevent co-ordinator. 
0810
Phillip Hammond delivered his first Autumn Statement yesterday. Phillip Hammond is chancellor of the exchequer and Kamal Ahmed is the BBC's economics editor.
0820
The widow of the late Lord Brittan has given her first interview for Radio 4's The Briefing Room about the police's handling of investigations into false allegations of rape and that he'd sexually abused children as part of a VIP paedophile ring.  Alistair Jackson conducted the interview.
0830
An EU-Ukraine summit in Brussels today will consider ways of developing closer ties. Visa-free travel between Ukraine and EU countries is on the table, as are assessments of Ukraine's progress in tackling corruption. Pavlo Klimkin is Ukrainian foreign affairs minister and the BBC's Tom Burridge reports.
0840
The Autumn Statement announced that Scotland would receive over the next five years an extra £800m to spend on infrastructure. Stewart Hosie is the SNP's economy spokesman and Deputy Leader at Westminster.
0850
The musician Robbie Robertson was lead guitarist in Bob Dylan's band for his infamous 1966 world tour. He has now published an autobiography. The BBC's Andy Kershaw reports.
All subject to change.
Broadcast