Main content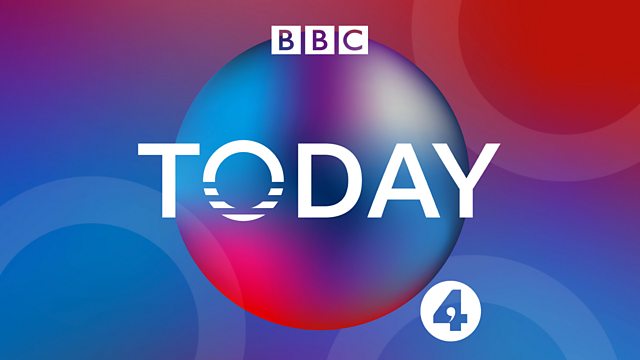 23/11/2016
Morning news and current affairs. Including Yesterday in Parliament, Sports Desk, Weather and Thought for the Day.
Last on
Today's running order
0650
A new report claims vital pathology services that carry out tests for cancer are struggling to cope with the increasing number of patients being referred. Emma Greenwood is Cancer Research UK's director of policy.
0655
Christian leaders in northern Iraq have told the BBC they need international protection from so-called Islamic State. The BBC's Richard Galpin reports from the Christian town of Karamles near Mosul, which was recently freed from the militants.
0710
Today the Autumn Statement will be presented to Parliament by Philip Hammond. Iain Duncan Smith is Conservative MP and former Secretary for Work and Pensions and Bridget Rosewell is one of the commissioners at the National Infrastructure Commission.
0715
The travel operator Thomas Cook has unveiled its full-year financial results. Peter Fankhauser is CEO of Thomas Cook.
0720
President-elect Donald Trump has given a wide-ranging interview to the New York Times. Carolyn Ryan is senior editor for politics at the New York Times and was at the interview with Donald Trump.
0740
A series of lectures for teenagers will demonstrate how mathematical ideas influenced the music, set design and visual effects in the National Theatre play The Curious Incident of the Dog in the night-time.  Rob Eastaway is director of Maths Inspiration, who are behind the lectures, and Alice King-Farlow is director of learning at the National Theatre.
0750
The Undercover Policing inquiry is unlikely to deliver its final report in 2018 despite committing to a three-year time frame in 2015. Peter Neyroud is former CEO at National Policing Improvement Agency and former Chief Constable of Thames Valley Police.
0810
Donald Trump will soon become President of the United States and leader of one of the most powerful militaries in the world. David Petreus is former director of the CIA.
0820 
The chancellor will set out his Autumn Statement today. The BBC's political editor, Laura Kuenssberg, and the BBC's business editor, Simon Jack, discuss what they expect to hear from the chancellor today.
0830
President-elect Donald Trump says the US will quit the Trans-Pacific Partnership trade deal on his first day in the White House. Steven Ciobo is Australian Trade Minister.
0840
One of the chancellor's announcements in Autumn Statement is expected to be that letting agents' fees will be banned, as part of the government's wider attempt to improve the living standards of ordinary working class people and their families. Graeme Brown is director of Shelter Scotland and David Cox is managing director of the Association of Residential Letting Agents.
0850
An "extremely rare" handwritten poem by Anne Frank is going under the hammer in the Netherlands today. The BBC's Anna Holligan reports.
All subject to change.
Broadcast