Main content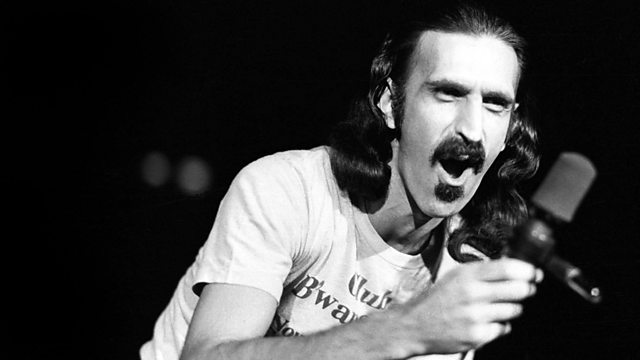 Nick Luscombe previews Frank Zappa: Eat That Question
Nick Luscombe previews the new Frank Zappa documentary Eat That Question. Plus a new interpretation of Morton Feldman and vinyl art from Paul Nataraj.
Nick Luscombe previews the new Frank Zappa feature documentary, Eat That Question, which reveals Frank Zappa in his own words from archive interviews spanning his career. We also examine the work of Paul Nataraj, whose project "You Sound Like a Broken Record" explores the personal stories and resonances attached to the vinyl record. And a new interpretation of Morton Feldman's Three Voices, by Juliet Fraser.
Produced by Joby Waldman for Reduced Listening.
Last on
Music Played
Frank Zappa

&

Ensemble Modern

Outrage At Valdez

Barbara Morgenstern

&

Robert Lippok

Scrambler

Summer.
bigo & twigetti.
6.

Paul Nataraj

Hugo Strasser

You Sound Like a Broken Record.

Tiger Blossom

(Reflections Of) Bimol Anodo Jago Re

Kenya Congo Connection: From The Archives Of Audio Productions Nairobi Kenya.
No Wahala Sounds.
13.

Cody ChesnuTT

Bullets In The Streets And Blood (feat. Raphael Saadiq)

Predawn

Drowsy

A Golden Wheel.
Flake Sounds.

Subbulakshmi Muthuswamy

Bhajan Madhuvanti Surdas

Frank Zappa

It Must Be a Camel

Hot Rats.
Bizarre Records.
3.

The Eye of Time

God Is Your Loneliness

MYTH I : A Last Dance For The Things We Love.
Denovali Records.
1.

Rothko

&

Susumu Yokota

Distant Sounds of Summer

Distant Sounds Of Summer.
Lo Recordings.

Midlake

The Fairest Way

The Trials Of Van Occupanther.
Bella Union.
13.

跡部進一

Rebuild Mix 1.

Rebuild Mix 1.2.3..
Jadac Recordings.
1.

Morton Feldman

Three Voices (Excerpt)

Performer: Juliet Fraser.

Carmen McRae

Feelin' Good

Feeling Good - Funk Soul & Deep Jazz Gems: The Supreme Sound Of Producer Bob Sha.
Modulor.

Christopher Chaplin

Lucius Agatho

Je suis le Ténébreux.
Fabrique Records.
1.
Broadcast