Main content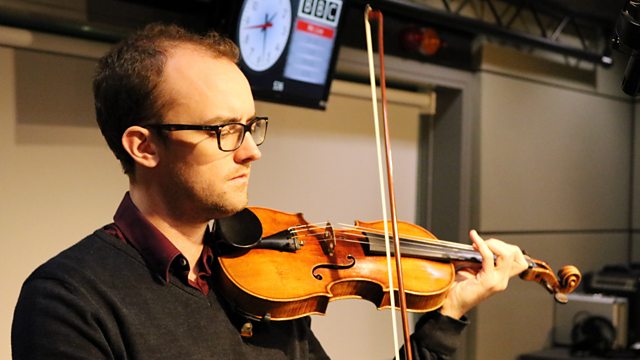 Ian Rawes, Meike Ziervogel
Ian McMillan presents Radio 3's cabaret of the word, with guests Ian Rawes, Meike Ziervogel, Oli Hazzard and Matthew Kaner.
Ian McMillan presents the Friday night cabaret of the word with guests Ian Rawes, Meike Ziervogel, Oli Hazzard and Matt Kaner.
Ian Rawes runs the London Survey which aims to archive and preserve the everyday sounds of London Life. He has just published 'Honk, Conk and Squacket: Fabulous and Forgotten Sound Words from a Vanished Age of Listening'.
The Novelist Linda Grant's latest book is 'The Dark Circle', which follows twins Lenny and Miriam as they are forced to leave their lives in Post-war London to live in confinement at a TB sanatorium in Kent.
Meike Ziervogel is an author and also runs Peirene Press, which publishes best-selling European novels in new English translations.
Oli Hazzard is the latest poet to tackle the 'Three Score and Ten' commission to celebrate Radio 3's 70th birthday. Oli has worked on his commission with Radio 3's composer in residence, Matthew Kaner.
Presenter: Ian McMillan
Producer: Jessica Treen.
Ian Rawes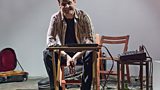 Sound Recordist and researcher Ian Rawes has produced a dictionary of unusual sound words and expressions from past generations called 'Honk, Conk and Squacket' (London Sound Survey). Old dictionaries of the language spoken in specific parts of the country sparked his interest, suggesting that people used to listen more intently to the world around them than they do today. Ian talks of a time dominated by a verbal culture of people inventing words, telling stories maybe even over listening to their environment.  Ian Rawes runs the London Sound Survey website
Meike Ziervogel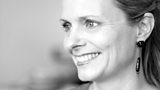 Meike Ziervogel is so passionate about the Novella she created Peirene Press, an independent publisher dedicated to translating foreign language short stories and bringing them to our shores. Meike is fluent in four languages but does not seek a literal translation, instead looking to convey the overall soul of an author's text. She only publishes books that she's read in full, as in short format fiction feels every single page must work. 
Matthew Kaner, Oli Hazzard Benjamin Baker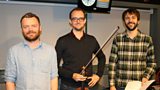 In a unique collaboration for 'Three Score and Ten' poet Oli Hazzard reads 'The Graig' or 'Edmund's Tump' accompanied by music from Radio 3's Composer in Residence Matthew Kaner and performed by violinist Ben Baker, for the very first time. This performance marks the first time the trio have been in the same room, as Matthew previously worked from a recording of Oli's reading to create his musical accompaniment. The poem is inspired by a period Oli spent living in by an unremarkable hill, which he wants to celebrate. Oli's collection 'Between Two Window's' is published by Carcanet.
Linda Grant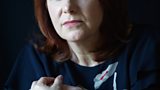 Linda Grant latest book 'The Dark Circle' (Virago) was inspired by interviews with a woman who contracted tuberculosis in 1949 and was sent to a sanatorium in the early days of the NHS. Her experience was that for the first time all social classes and types of people were suddenly thrust together, and as Linda tells Ian, 'That's a novel'. Linda's novel brings to life the frustrations and small defiances of a group of people pulled out of a world that is rapidly changing, a post war Britain discovering rock and roll and television, while they wait for the 'miracle' cure.