Main content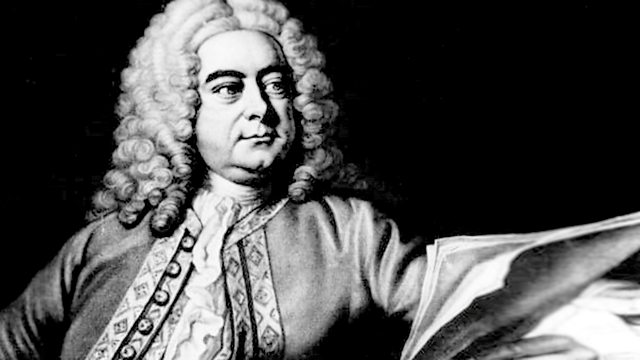 Last Thoughts, Fading Light
Donald Macleod focuses on Handel's Joshua becoming a hit and how Theodora came to flop.
This week Donald Macleod focuses on Handel the organist. Today, Joshua's a hit, Theodora's a flop - as Handel said, "there was room enough to dance there, when that was performed".
Written at great speed in 1747 during the most disastrous months of the War of the Austrian Succession, Handel's oratorio Joshua tapped in to contemporary events with a tale of conflict, heroism and deliverance, and was not surprisingly a huge success with its first audiences. By contrast, the bleak and inward-looking Theodora - about the Christian martyr of that name and her Roman lover Didymus - failed to make an impression, and ran for just three performances. It's now widely regarded as one of Handel's finest works - the last thoughts of a great master. A month after he finished Theodora, Handel noted what he called a severe "relaxation" of his left eye. Within two years his blindness would be complete. Even then he continued to play the organ, though now he had to be guided to it, then back towards the audience to take his bow.
Organ Concerto in D minor, Op 7 No 4 (HWV 309) (4th mvt, Allegro)
Bob van Asperen, organ and direction
Orchestra of the Age of Enlightenment
Sinfonia in B flat, HWV 347
Concerto Köln
Joshua, HWV 64 (Act 2, 'Glory to God!')
James Gilchrist, tenor (Joshua)
Kölner Kammerchor
Collegium Cartusianum
Peter Neumann, conductor
Organ Concerto in G minor, Op 7 No 5 (HWV 310)
Paul Nicholson, organ
Brandenburg Consort
Roy Goodman, conductor and harpsichord continuo
Theodora, HWV 68 (Act 3, 'Streams of pleasure ever flowing'; 'Thither let our hearts aspire')
Robin Blaze, countertenor (Didymus)
Susan Gritton, soprano (Theodora)
Gabrieli Players
Paul McCreesh, conductor
Organ Concerto in B flat, Op 7 No 3 (HWV 308)
Richard Egarr, organ
Academy of Ancient Music
Producer: Chris Barstow.
More episodes
Next
You are at the last episode