Main content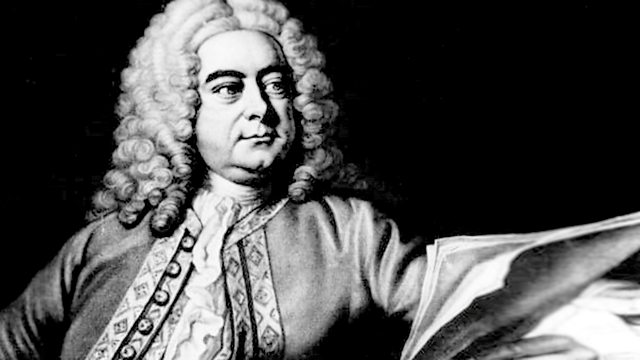 Donald Macleod explains how Handel left the opera business for good, as well how his new oratorio had a warm reception.
This week Donald Macleod focuses on Handel the organist. Today, Handel gets out of the opera business for good, and his new oratorio gets a warm reception - in frosty conditions.
When Handel's collaborator Charles Jennens tried to interest him in "a collection from Scripture" - Messiah, he called it - the composer wasn't initially interested. But when Jennens steered him in the direction of the writer whose work was probably, after the Bible, the most widely read and admired in this country, John Milton, Handel responded with enthusiasm. The initial proposal was for a work based on two of Milton's poems, L'Allegro (the cheerful man) and Il Penseroso (the pensive man), to which Jennens then added text for a third character, Il Moderato - the moderate man. If this plotless concoction sounds like an unpromising basis for a composer of Handel's dramatic flair to build on, the end result - the oratorio L'Allegro, Il Penseroso ed Il Moderato - is full of simply wonderful, poetic music that evokes the landscapes and pastoral moods of Handel's adoptive country. There was nothing pastoral about the conditions of the première. Because the winter of 1739-40 was unusually severe, the initial run of performances had to be pushed back from New Year to mid-February. Even then, it was so cold in the theatre at Lincoln's Inn Fields that a newspaper ad was placed to reassure punters that the venue had been "secur'd against the cold by having curtains placed before every door, and constant fires being ordered to be kept in the House 'till the time of the Performance." Following the great success of L'Allegro, Il penseroso ed Il moderato came a pair of operatic flops, Imeneo and Deidamia, after which Handel devoted himself more or less exclusively to oratorio - producing first Messiah, about which he had had a change of heart, then Samson, inspired by another Milton poem, Samson Agonistes. As was Handel's usual practice, both L'Allegro and Samson were provided with fine organ concerti, written specially for the occasion.
L'Allegro, il Penseroso ed il Moderato (Pt 1, 'Haste thee, nymph, and bring with thee')
Jeremy Ovenden, tenor
Gabrieli Consort and Players
Paul McCreesh, conductor
Organ Concerto in B flat, Op 7 No 1 (HWV 306)
William Whitehead, organ
Gabrieli Players
Paul McCreesh, conductor
L'Allegro, il Penseroso ed il Moderato (Pt 3, duet: 'As steals the morn upon the night')
Gillian Webster, soprano
Jeremy Ovenden, tenor
Gabrieli Players
Paul McCreesh, conductor
Samson, HWV 57 (Pt 2, 'Return, O God of Hosts!')
The Sixteen
The Symphony of Harmony and Invention
Harry Christophers, conductor
Organ Concerto in A, Op 7 No 2 (HWV 307)
Ton Koopman, organ
Amsterdam Baroque Orchestra.