Main content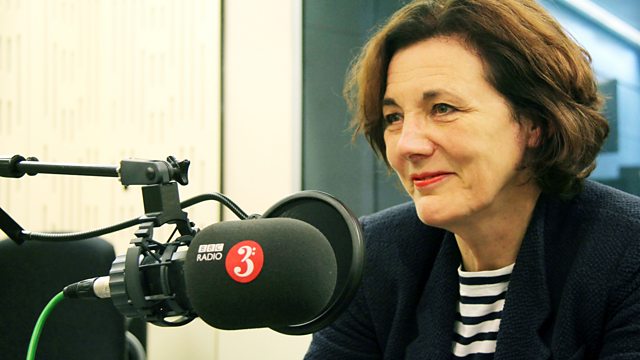 Friday - Sarah Walker with Vivienne Parry
With Sarah Walker. Including My Favourite Lute Music; Artist of the Week: flautist Aurele Nicolet, featured in Moscheles's Concertante in F for flute, oboe and orchestra.
9am
My favourite... lute music. Sarah shares a selection of her favourite pieces written for the lute, with works by Vivaldi, Dowland and Bach played by such celebrated lutenists as Jakob Lindberg, Christopher Wilson, Nigel North and Paul O'Dette.
9.30am
Take part in today's musical challenge: name a piece of music used in a film or TV programme.
10am
Sarah's guest is the science writer and broadcaster Vivienne Parry. A scientist by training, Vivienne is best known for having presented the BBC television series Tomorrow's World, and for her Radio 4 programmes which include Just So Science, about the science behind the animals of the Just So stories, and the multi award winning series Am I Normal? Vivienne writes for newspapers including The Times and The Guardian, and is science editor of Good Housekeeping magazine. Her book, The Truth About Hormones, was nominated for the Aventis Science Prize. Throughout the week Vivienne talks to Sarah about her passion for communicating science, and shares her favourite pieces of classical music.
10.30am
Music in Time: Classical
Sarah places Music in Time, putting the spotlight on the Classical period, showing how composers had to respond to the requirements of princely patrons. She plays a chamber piece by Haydn that features a now defunct instrument popular during this period: the Baryton.
11am
Sarah's artist of the week is the Swiss flautist Aurèle Nicolet. Nicolet, who died earlier this year, was considered one of the world's greatest flute players of the late twentieth century. Several composers, including Takemitsu and Ligeti, wrote music especially for him, while Nicolet's pupils include Emmanuel Pahud, Michael Faust and Thierry Fischer. Nicolet was principal flautist in the Berlin Philharmonic during the 1950s, but enjoyed a highly successful career as a soloist as well. Throughout the week Sarah explores his vast recording legacy, featuring Nicolet as soloist in concertos by Mozart, CPE Bach, Couperin and Moscheles, and as a chamber musician in Debussy's Sonata for flute, viola and harp.
Moscheles
Concertante in F for flute, oboe and orchestra
Aurèle Nicolet (flute)
Heinz Holliger (oboe)
Frankfurt Radio Symphony Orchestra
Eliahu Inbal (conductor).
Music Played
My Favourite...lute music

Vivienne Parry's Choice no.1

Vivienne Parry's Choice no.2

Music in Time: Classical

Artist of the Week: Aurèle Nicolet
Heard on Screen
Answer: Mr Bean
The music played:
Howard Goodall 
Ecce Homo qui est faba
Choir of Christ Church Cathedral
Stephen Darlington (conductor)
ASV