Main content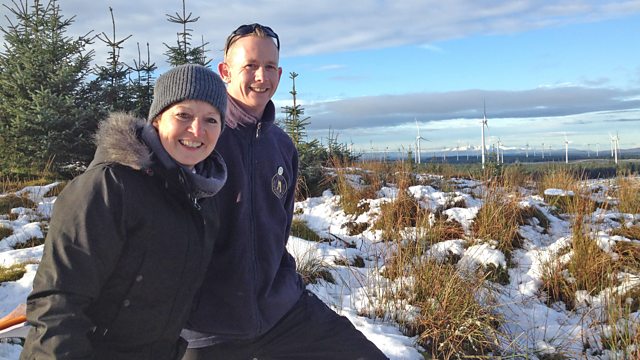 Whitelee Windfarm on Eaglesham Moor
Helen Mark visits Eaglesham Moor in Scotland, home of the UK's largest onshore wind farm.
Eaglesham Moor, which extends over thirty square miles just south of Glasgow, has arguably been viewed by those living around it as a rather inhospitable landscape where only the very hardy would go. This dramatic high plateau has had many uses over the centuries, including farming and forestry, however the most recent change is the addition of Whitelee Windfarm, the biggest onshore wind farm in the UK. Helen Mark explores the land between the 215 turbines to discover the human history of the moor and the changes to this landscape before and after the wind farm. She sets out on the new walking and cycling trails that have transformed access to the moor to meet local residents, as well as a farmer who can trace his family history at Eaglesham Moor back over 500 years.
Much of the moor is made up of important peatland habitat which was damaged by afforestation before the wind farm was built. As a part of their contract at Whitelee, ScottishPower Renewables has been restoring previously forested areas back to bog habitat using an innovative technique. Helen goes to see this work in action and talks to the team about the challenges of building a renewable energy project on a carbon sink. Helen also visits the Whitelee Operations Centre to ask ScottishPower Renewables about some of the concerns about the construction of wind farms.
Podcast
Countryside magazine featuring the people and wildlife that shape the landscape of Britain