Main content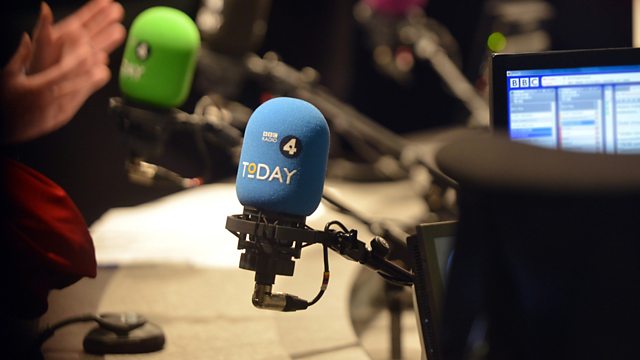 07/12/2016
Morning news and current affairs. Including Yesterday in Parliament, Sports Desk, Weather and Thought for the Day.
Last on
Today's running order
0650
A record number of workers are living in poverty in the UK according to a study carried out by the Joseph Rowntree Foundation. Julia Unwin is chief executive of the Joseph Rowntree Foundation.
0710
Measures to protect poultry in England against a highly-infectious strain of avian flu in Europe have been announced by the government. The protection zone covers England and will remain in place for 30 days. Nigel Gibbens is the UK's Chief Veterinary Officer. Daniel Brown is a chicken farmer in Cambridge.
0715
Theresa May has announced that the government will publish some details of Britain's negotiating position before Article 50 is triggered. Dominic Raab is a Conservative MP.
0720
The UK Department for International Trade is hosting a tech trade mission by the Malaysian Digital Economy Corporation. They've been running since 1996 and their role is to promote the growing technology sector in Malaysia. Dato' Yasmin Mahmood is Chief Executive of the the Multimedia Development Corporation.
0730
The UN has issued a warning that children in Yemen face death from hunger because of a lack of international help. The World Health organisation says more than 50% of hospitals are not functioning.  The BBC's Fergal Keane reports and Mark Goldring is Chief Executive of Oxfam Great Britain.
0740
HMS Illustrious, the last of the Royal Navy's invincible class Aircraft Carriers, will make her final voyage from Portsmouth to a scrapyard in Turkey this morning. Admiral Jock Slater is former First Sea Lord and the first captain of the HMS Illustrious.
0750
More than one in 10 patients face long delays for a bed when they are rushed into hospital in an emergency, the BBC has found. Wendy Tyler is from Scarborough and had to wait for a number of hours for her father to be seen in hospital. Michael Wilson is Chief Executive of Surrey and Sussex NHS Healthcare Trust.
0810
A former Royal Marine jailed for murdering an insurgent in Afghanistan is to have his case heard by the Courts Martial Appeal Court for a second time. Oliver Lee is a former colonel in the Royal Marines and was Sgt Blackman's commanding officer at the time.
0820
A backlash against diminished sound quality has emerged in the form of 'listening clubs' catering to the sensitive ears of self-styled audiophiles who want to hear music being played on some of the best sound systems in the world.  The Today programme's Nicola Stanbridge reports.
0830
Kezia Dugdale will suggest in a speech today that the United Kingdom should become a Federation, like the United States, where regions and nations can run their own affairs but remain part of an over-arching nation.  Kezia Dugdale is the leader of the Labour party in Scotland.
0840
One in every eight workers in the UK - 3.8 million people - is now living in poverty. A total of 7.4 million people, including 2.6 million children, are in poverty despite being in a working family. Amelia Gray is a single mother of two in part time employment. Kamal Ahmed is the BBC's Economics Editor.
0850
The British Antarctic Survey is getting ready to move its Halley VI Research Station 23 km across the ice. This is the first time that the station has been moved since it was towed from its construction site to its present location in 2012. Tim Stockings is Director of Operations at the British Antarctic Survey.
0855
It's the 75th anniversary of Pearl Harbour. Margaret Macmillan is a professor of international history at Oxford University.
All subject to change
Broadcast