Main content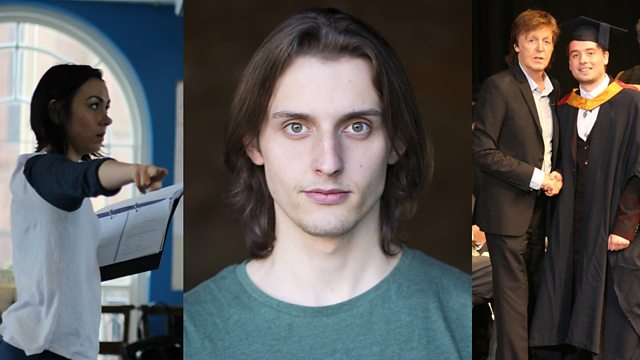 Janice Long meets two budding actors and a sound technician in their final year at performing arts college and follows their first steps into the world of show business.
Raising the curtain on a very modern performing arts school, the Liverpool Institute for Performing Arts.
In the second of three programmes, broadcaster Janice Long meets actors Sarah and Connor and sound technician Django during their final year of their performing arts degrees.
Sarah always wanted to be a star. Her parents would proudly show videos of her singing Disney songs as a young child. Sarah's life has changed dramatically since moving from California to Liverpool for the start of her course, three years ago. She is struggling with artistic and personal challenges during her final year of drama school, and is faced with having to leave the UK in a few short months.
Connor's appetite for acting also began as a child, inspired by watching Power Rangers on TV. He was brought up in Mexborough, South Yorkshire where he admits a career in the arts isn't often a first choice for many. Connor is hoping to get an agent to help him launch his acting career after graduation.
Sound technician Django is the popular man on campus to know. He can be found running between recording sessions, theatre performances and gigs and is already mourning the end of his university life.
In audio diaries and interviews, Sarah, Connor and Django share their professional insecurities, artistic triumphs, personal challenges and hopes for the future. With exclusive and close-up access to life at LIPA, we meet the young people who want to become the arts practitioners of the future and those who are trying to get them there.
Producer: Rebecca Maxted
A Sparklab production for BBC Radio 4.