Main content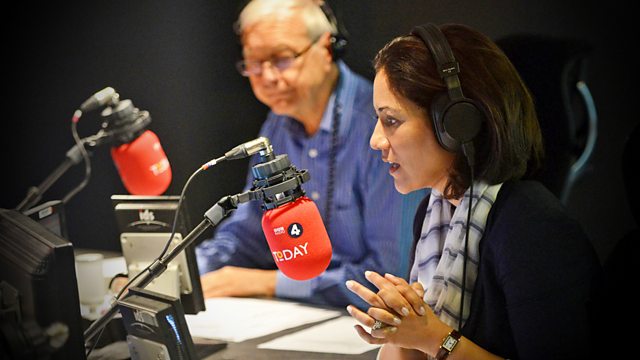 06/12/2016
Morning news and current affairs. Including Yesterday in Parliament, Sports Desk, Weather and Thought for the Day.
Today's running order
0650
Can the Northern Powerhouse be made to work for young people in the north of England? The BBC's social affairs correspondent Michael Buchanan reports.
0655
The regular use of caesarean sections is having an impact on human evolution, say scientists. Mihaela Pavlicev is from Cincinnati Children's Hospital and is the co-author of the report.
0710
The government is promising big changes to the way the rail network across England is organised. Mick Cash is general secretary of the RMT trade union.
0715
Technology giants including Twitter, Facebook, Youtube and Microsoft are to start sharing information about extremist or violent content found on their websites so it can be removed more quickly. Charlie Winter is senior research fellow at the International Centre for the Study of Radicalisation at Kings College London.
0720
The White House said on Monday it had sought to reassure China after President-elect Donald Trump's phone call with Taiwan's leader last week, which the Obama administration warned could undermine progress in relations with Beijing. Former Australian Prime Minister Kevin Rudd is president of the Asia Society Policy Institute in New York.
0730
Italian President Sergio Mattarella has asked the outgoing Prime Minister Matteo Renzi to delay his resignation for long enough to oversee the adoption of the country's 2017 budget. Alessandro Profumo is former CEO of Monte dei Paschi and Mariana Mazzucato is professor in Economics of Innovation at the University of Sussex.
0750
The government is promising big changes to the way the rail network across England is organised. Chris Grayling is transport secretary.
0810
Harry Redknapp has said the Football Association should have done more to monitor Bob Higgins - the man at the centre of historic sex abuse allegations at Southampton football club. Harry Redknapp managed several Premier League clubs. The BBC's Zoe Conway reports.
0820
Owen Suskind was a chatty, energetic toddler when he suddenly lost his speech. He was eventually diagnosed with regressive autism. For the following years, his family tried to find a way to communicate with him – and they found it in Disney animated movies. We speak to Owen and his father Ron, whose book about his son Life, Animated has been turned into a documentary.
0830
The Bank of England Governor Mark Carney has warned that people will turn their backs on free and open markets unless something is done to help those left behind by the financial crisis. Richard Baldwin is author of new book on globalisation, The Great Convergence.
0835
How do Sharia councils really work? Dr Amra Bone is thought to be the UK's first female Sharia council judge.
0840
Iain Duncan Smith has told BBC News that watching the Supreme Court Brexit case is like watching paint dry. While the decision might be potentially controversial has it been a good watch? Kevin O'Sullivan is a TV critic at tvkev.co.uk and Lisa Holdsworth is an ITV scriptwriter.
0850
Governments around the world are eagerly anticipating the publication of the annual PISA tests which assess how their education systems are performing - or at least that's the theory. Lucy Crehan is author of Cleverlands: The Secrets Behind the Success of the World's Education Superpowers and Harvey Goldstein is professor of Social Statistics at Bristol University. 
All subject to change.