Main content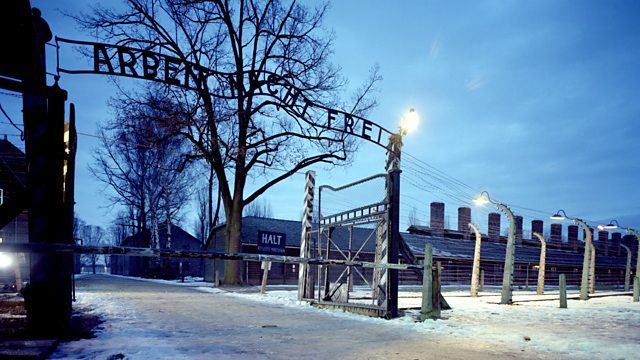 The Forever Project, Cosmo Lang, Deaf organist
The Forever Project; Cosmo Lang and the abdication; the deaf organist who can hear again.
Edward Stourton asks Bethany Bell why the rising popularity of right-wing nationalism in Europe is so important in the Austrian presidential election.
To mark the 80th anniversary of the abdication of Edward VIII, Radio 4 broadcasts 'The King's Matter', a drama on the deliberations of Cosmo Lang who was Archbishop of Canterbury at the time. The author of the play - Christopher Lee - talks about Cosmo Lang and his motives.
The National Holocaust Centre has just opened an interactive exhibit called 'The Forever Project'. It displays Holocaust survivors as 3D laser projections which answer questions from visitors. Bob Walker has been to test it out.
Philip North, the Bishop of Burnley, on why he thinks the Church of England is too middle class.
Recent research has found that Sikh men with alcoholism are not seeking help for their problem. Steve Bahal is a recovering alcoholic who now works with Sikh alcoholics.
The Rt Revd James Langstaff, the Bishop to HM Prisons, responds to a recent report on the rise in suicide numbers in British prisons.
The Jewish charity Jnetics has launched a programme to encourage young Jewish adults to undergo screening for genetic disorders that are particularly prevalent within the Jewish community. The Executive Director of Jnetics is Katrina Sarig. She is joined by Ian Pearl talking about his son who has a genetic disease.
Although church organist Charles Stowman has been profoundly deaf for the last five years he has continued to play the organ for Sunday services in Stockport. He recently had a cochlear implant in his right ear switched on. Edward Stourton visits Charles at his church to find out how he's getting on.
Producers: Helen Lee
Dan Tierney
Series Producer: Amanda Hancox.
Last on
Chapters
Austria

Why is the rising popularity of right-wing nationalism important in the Austrian election?

Duration: 04:43

Cosmo Lang

Radio 4 drama to mark the 80th anniversary of the abdication of Edward VIII.

Duration: 05:20

Bishop Philip North

The Bishop of Burnley on why he thinks the Church of England is too middle class.

Duration: 03:58

Forever Project

The National Holocaust Centre displays Holocaust survivors as 3D laser projections.

Duration: 07:10

Sikhs And Alcohol

Recent research finds Sikh men with alcoholism are not seeking help for their problem.

Duration: 05:21

Bishop for Prisons

The Bishop to HM Prisons responds to a report on the rise of suicides in British prisons.

Duration: 03:48

Jewish Genetics

A charity is encouraging young Jewish adults to undergo screening for genetic disorders.

Duration: 07:10

Deaf Organist

Organist Charles Stowman who is profoundly deaf has continued to play the organ.

Duration: 04:48

Broadcast

Pathways to Prayer – Lent Retreat 2021

All the colours of the rainbow