Main content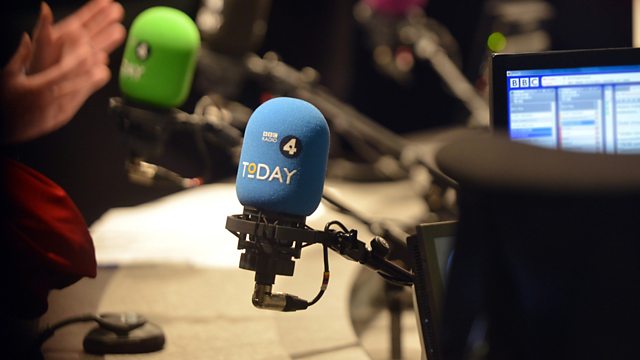 03/12/2016
Morning news and current affairs. Including Yesterday in Parliament, Sports Desk, Weather and Thought for the Day.
Last on
Today's running order
0710
Donald Trump, the US president-elect, has broken with decades of US policy to speak with President Tsai Ing-wen of Taiwan, risking a major diplomatic rift with China. David Willis reports.
0715
Syrian troops have recaptured over half the former rebel stronghold of eastern Aleppo, local monitors say. Lyse Doucet is our chief international correspondent.
0720
Who defines British values? This was the subject of a debate in the House of Lords yesterday. Mark D'Arcy is our parliamentary correspondent.
0725
Austrians may choose a controversial far right politician to be their president. Norbert Hofer lost out in an election earlier this year but the vote is being re-run after the result was declared invalid. Jenny Hill reports from the town of Eisenstadt.
0740
A convoy carrying the ashes of Fidel Castro will end its journey around Cuba today in Santiago - the city where Castro launched his revolution. Otto Reich was born in Cuba but fled to the USA aged 15 after Castro's takeover, he eventually became Assistant Secretary of State under George W. Bush.
0750
On Monday the Supreme Court will begin hearing the government's appeal to overturn a High Court ruling, which said Parliament's approval must be sought before the government invokes Article 50. Professor Alison Young is a fellow at Oxford University and Mark Elliot is a professor of public law at Cambridge University.
0810
Police chiefs say about 350 victims have so far come forward in the child abuse scandal engulfing British football. Gerry Sutcliffe is the former Labour minister for sport and John Scales is a former professional footballer for Liverpool and Tottenham.
0820
Heinrich Steinmeyer was a former German soldier who left £400,000 to the village of Comrie in Perthshire, where he was held captive during World War Two. George Carson's father, also George, was good friends with Heinrich.
0825
Behind the door of the Today programme advent calendar is the news of David Bowie's death back in January, which broke whilst we were on air and just a few minutes before a scheduled interview with the Archbishop of Canterbury.
0830
The US president-elect, Donald Trump has broken with decades of US policy to speak with President Tsai Ing-wen of Taiwan, risking a major diplomatic rift with China. Carrie Gracie is our China editor.
0840
The Telegraph claims that the government is planning to take control of track maintenance away from the publicly owned Network Rail and give it to the train operating companies. George Muir was director general of the Association of Train Operating Companies.
0850
Tomorrow, Italians will go to the polls to vote for or against constitutional reform. James Reynolds is our Rome correspondent and Roberto Stasi is chairman of the UK's branch of the Democratic Party.
0855
The British Library will display Jane Austen's handwritten notes of what her family and close friends thought of her third novel, Mansfield Park. Patricia Duncker is professor emeritus at Manchester University and Jonathan Freedland is a novelist.
Broadcast