Main content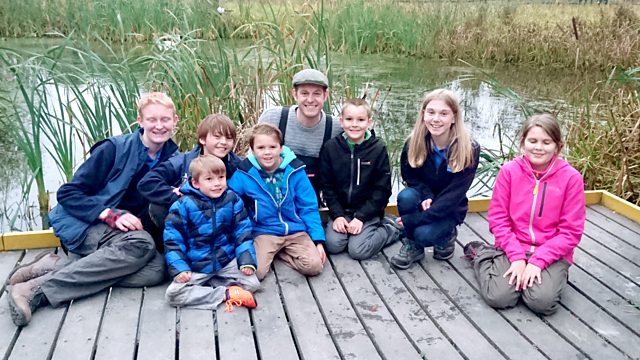 West Yorkshire
In West Yorkshire, Matt Baker meets the youngsters who have become RSPB rangers. Anita Rani meets an author who immerses himself in the landscape.
Countryfile visits West Yorkshire, where Matt Baker meets the youngsters who have become RSPB rangers.
Anita Rani explores Bronte country and meets an author who literally immerses himself in the landscape. Anita also finds out about an award-winning halloumi cheese producer from Syria.
Naomi Wilkinson discovers the challenges facing the fire brigade at Ogden Water, and Adam raises a glass to English wine.
Tom Heap investigates claims that sheep farming could become impossible in some parts of Britain within just a few years.
Junior Rangers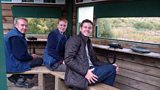 Matt Baker is at RSPB Fairburn Ings, an important site for wading and water birds. The reserve is maintained by volunteers. But at Fairburn Ings there are a group of youth volunteers, fully fledged rangers, doing the same job as their adult counterparts. Elliot Roberts is a 15 year old who's been a full time ranger for several years, a keen photographer and bird watcher his enthusiasm is contagious.  Matt also meets Kate Struthers, the visitor experience officer who explains the background to Fairburn Ings and the young rangers project.
Sheep Worms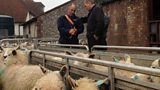 Tom's investigating warnings that parts of the UK could soon become impossible to farm sheep on. It's all down to parasitic worms that are becoming resistant to the drugs traditionally used by farmers. It's a problem that's costing an already vulnerable industry more than 80 million pounds a year. Tom learns what farmers can do right now to help alleviate the problem and meets the farmers and scientists looking to genetics for an answer.   
Bronte Country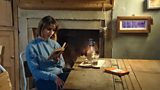 The rugged moors of West Yorkshire have inspired writers for centuries. From Ted Hughes to Simon Armitage novels, poems and plays have sprung from this foreboding landscape. The works of the Bronte sisters are amongst them. Anita Rani meets Michael Stewart, a lecturer and writer, in a coffee shop where Charlotte Bronte was born 200 years ago this year. To mark the occasion Michael is planning something special out on the moors. 
Ogden Water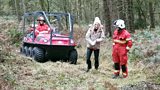 Ogden Water is a nature reserve which sits at the heart of a project to open up the countryside. Chris Sutcliffe, the site ranger talks to Naomi Wilkinson about how important it is to keep it in good condition for everyone, from families to the emergency services. Naomi catches up with Simon Coning and Jason Fernley, the team charged with maintaining the area. They're felling trees and clearing the path to allow access up through the woodland to an area which was ravaged by a large moorland fire in 2011.  The aim is to create a track that 4x4 vehicles and the west Yorkshire Firefighting brigade's all-terrain vehicle can use in the event of another fire.
Tree Sparrows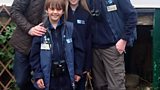 Fairburn Ings has a large number of resident Tree Sparrows, a bird that's declined in other parts of the country. It's the focus of a survey which involves ringing and recording their movements and behaviour. Matt Baker finds out what's been leanrt so far about these little birds. He then joins the sites  youth volunteers, Liberty Monkman, 11 and Ollie Carr, 9 sitting by an array of bird feeders, making notes on which birds are visiting and when. 
Wine Harvest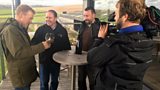 Adam's in Sussex at the Rathfinny Wine Estate helping harvest and press grapes. He learns how the climate and soil conditions are just what's needed to produce grapes for a good English sparkling wine. Then, of course, he discovers no trip to a vineyard is complete without a quick tasting session!  
Syrian Halloumi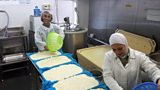 Anita Rani meets Halloumi cheese maker Razan Alsous who started her business four years ago after coming to the UK from Syria in 2012. A microbiology technician, she had no experience of cheese making, but she spotted a niche in the British market and began to make halloumi selling it at local food events. Anita and Razan get stuck in with cheese making using adapted icecream and pasta boiling machines to produce the award winning products. 
Pond Life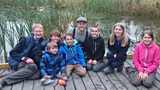 Matt Baker dons his waders and joins the adult volunteer rangers at Fairburn Ings in the pond dipping pool. The job is to move reeds and bull rushes to a dipping platform to encourage wildlife closer to the visitors. Matt learns how the site is managed with site warden John Ingham before  then joining some children and the youth rangers for some good old pond dipping. 
Credits
| Role | Contributor |
| --- | --- |
| Presenter | Matt Baker |
| Presenter | Anita Rani |
| Presenter | Naomi Wilkinson |
| Presenter | Tom Heap |
| Presenter | Adam Henson |
| Executive Producer | William Lyons |
| Series Producer | Joanna Brame |