Main content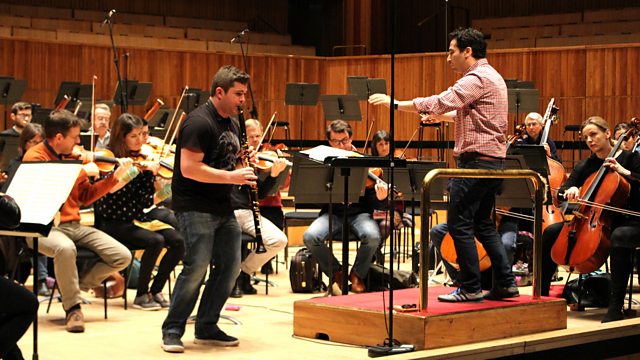 London Philharmonic Orchestra - Weber, Mozart and Rachmaninov
Live from the Royal Festival Hall, Andres Orozco-Estrada conducts the London Philharmonic. Weber: Der Freischutz (Overture). Mozart: Clarinet Concerto. Rachmaninov: Symphony No 2.
Live from the Royal Festival Hall
Presented by Martin Handley
The LPO play Weber and Rachmaninov. Julian Bliss joins them in Mozart's Clarinet Concerto.
Weber: Overture, Der Freischütz
Mozart: Clarinet Concerto
8.15: Interval: Pied Piper
During the intervals of the concerts this week, we'll be hearing a selection of programmes from the five year long series. Munrow explored a wide range of music, and these five programmes can only begin to give a taste of the topics he covered. In the middle of February in 1976, David Munrow spent a week of his series of Pied Piper programmes looking at brass bands, military bands and wind bands of many different periods. At 5.25 on the afternoon of Thursday 26th February 1976, he spent 20 minutes introducing members of the brass band, including the euphonium, cornet and post horn. He also found time to continue looking into the life story of the inventor of the sousaphone.
8.35
Rachmaninov: Symphony No.2 in E minor
Julian Bliss, clarinet
London Philharmonic Orchestra
Andrés Orozco-Estrada, conductor
Mozart's Clarinet Concerto is one of the best-loved concertos in the repertoire and one rarely performed by the London Philharmonic Orchestra. Used in the iconic film Out of Africa, the concerto showcases Mozart's compositional poise and melodic skill. Rachmaninov's Symphony No.2 is similarly enjoyed as one of the most beautiful symphonies in the repertoire, complete with a sublime clarinet solo line from within the orchestra.