Main content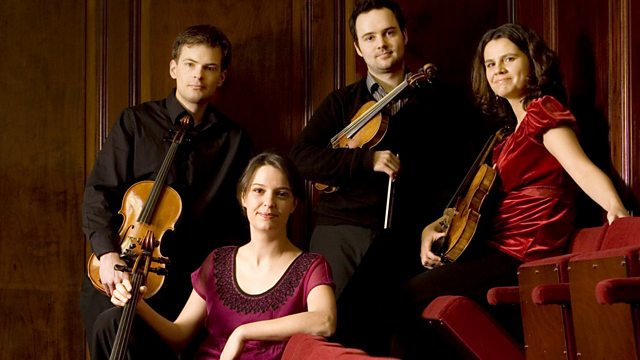 Elias Quartet - Haydn, Britten and Beethoven
The Elias Quartet in concert in Leamington Spa. Haydn: String Quartet in E flat, Op 64 No 6. Britten: String Quartet No 3, Op 94. Beethoven: Quartet in B flat, Op 130; Grosse Fuge.
Recorded on 25th November at the Royal pump Rooms, Leamington Spa.
The Elias Quartet play Haydn, Britten and Beethoven.
Haydn: String Quartet in E flat major, Op 64 No 6
Britten: String Quartet No 3 in G major, Op 94
8.15: Interval: Pied Piper
During the intervals of the concerts this week, we'll be hearing a selection of programmes from the five year long series. Munrow explored a wide range of music, and these five programmes can only begin to give a taste of the topics he covered. In this edition of Pied Piper from 10th March 1975, David Munrow looks at the early days of the life of Sir Thomas Beecham, the impression the success of his grandfather's laxative business had on the family and how the young Thomas learned the repertoire from his father's huge collection of music boxes.
8.35
Beethoven: String Quartet in B flat major, Op 130, and Grosse Fuge, Op 133
Elias Quartet:
Sara Bitlloch and Donald Grant, violins
Martin Saving, viola
Marie Bitlloch, cello
The Elias Quartet visit Leamington Spa, having toured
extensively throughout Europe and the USA and completed
their ground-breaking Beethoven Project: performing
and recording the composer's complete string quartets. Tonight they couple one of the greatest of those with works by Haydn and Britten.