Main content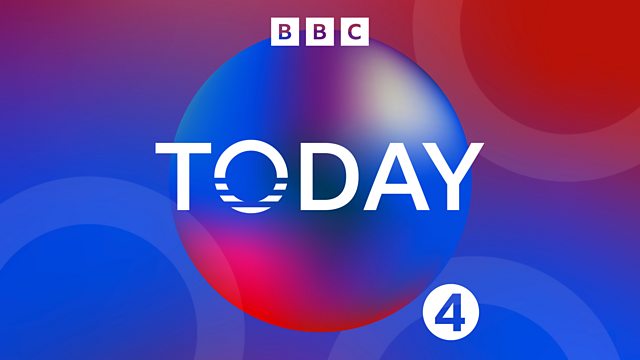 01/12/2016
Morning news and current affairs. Including Yesterday in Parliament, Sports Desk, Weather and Thought for the Day.
Last on
Today's running order
0650
European research ministers gather in Lucerne to choose and fund the future projects of the European Space Agency. Catherine Mealing-Jones is director of growth at the UK Space Agency.
0655
Health officials in Wales are celebrating the one-year anniversary of a landmark change in the law on organ donors. The system means adults automatically become donors after they die – unless they choose to opt out of the system. Mike Stephens is a transplant surgeon at the University Hospital of Wales.
0710
A General Medical Council (GMC) poll of 55,000 UK doctors in training says some trainee doctors are working beyond their competence due to huge workloads - and many have to leave training sessions to answer clinical calls. Charlie Massey is chief executive of the GMC.
0715
Former Goldman Sachs banker Steven Mnuchin has promised to boost the US economy and cut taxes in his new role as Treasury secretary. Gillian Tett is US managing editor of the Financial Times.
0720
Today's business editor Dominic O'Connell discusses the housing market with Helen Gordon, chief executive of Grainger PLC - the UK's largest listed residential landlord.
0725
It looks as though the plane carrying the Chapecoense football team which crashed on Monday had run out of fuel, according to Colombia's Civil Aviation Authority. Max Arthur is a historian who spoke to survivors of the Munich air disaster.
0730
Germany took almost a million refugees last year. Today's chief correspondent Matthew Price is in a rural village in the north of the country, taking a look at how some of those who risked everything to escape the Syrian conflict are settling in.
0740
What can doodles tell us about history? An archivist at the University of Glasgow has recently started using a 15th Century manuscript to show her students that doodles can reveal a lot about their owners. Johanna Green is lecturer in Book History and Digital Humanities at the University of Glasgow's College of Arts.
0750
The Home Office wanted to 'deprioritise' the children of illegal immigrants at school risking 'segregation' when Theresa May was home secretary, cabinet letters leaked to the BBC suggest. Her department suggested that schools could remove school places from children if their families were shown to be in the country illegally. Angela Rayner is shadow education secretary and Laura Kuenssberg is the BBC's political editor.
0810
Staff at the NSPCC say they have referred three times as many calls to the police about abuse in football as they did in the same time frame when the Jimmy Savile story broke. Jon Brown is the NSPCC's lead on tackling sexual abuse and Dan Roan is the BBC's sports editor.
0820
Actor Gillian Anderson's latest film is called Sold - it tells the story of a girl from Nepal who is trafficked to India and is forced to work in a brothel. Today reporter Zoe Conway caught up with her at the Trust Women Conference organised by the Thomson Reuters Foundation.
0830
The National Institute for Clinical Excellence (NICE) says air pollution in England contributes to the deaths of 25,000 people each year. Samantha Heath was on the NICE guideline committee and Cllr Martin Tett is chairman of the Local Government Association's Environment, Economy, Housing and Transport Board.
0835
Chief Inspector of Schools Sir Michael Wilshaw will unveil his last Ofsted report later today. He says the failure to improve schools in some parts of England has contributed to the feeling of being ignored revealed in the Brexit vote. Today's Ross Hawkins reports and we speak live to Sir Michael.
0840
It is 20 years since anti-retroviral drugs began to transform the lives of people diagnosed with HIV. But social attitudes towards HIV-positive people have not kept pace with medical advances. Theresa May has this week called HIV stigma "an unacceptable stain on our society" that needs to be wiped out. Today's Dave McMullan reports.
0850
This week the Guardian reported that "feuding gangs on Liverpool estates have sparked a chaotic eruption of violence". Mike Barton is the National Police Chiefs Council lead on gang violence and Jermain Lawlor is a youth worker and former gang member.
0855
British theatre is "hideously white", according to a new report from the Andrew Lloyd Webber Charitable Foundation. Danuta Kean is the report's author and Emmanuel Kojo played Joe in the Sheffield Crucible's recent production of Show Boat.
All subject to change.
Broadcast