Main content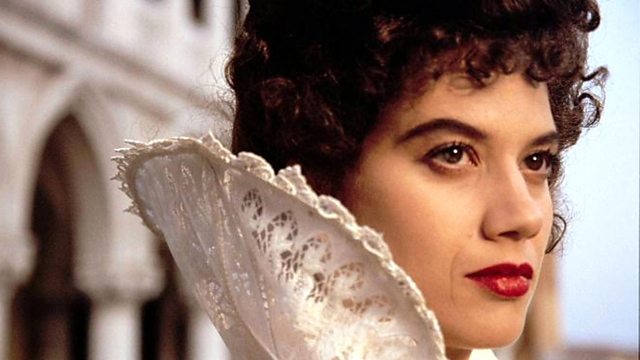 Saint-Saens - Proserpine
Thursday Opera Matinee: Penny Gore presents a performance of Saint-Saens's opera Proserpine given in Munich, featuring soprano Veronique Gens in the title role.
Penny Gore presents Saint-Saëns's opera Proserpine, recorded in Munich in September. Featuring the soprano Véronique Gens in the title role.
Saint-Saëns's opera depicts the fate of Proserpine the Renaissance courtesan, rather than the mythological character of the same name. In this tale, the composer relishes the opportunity to experiment with dissonance and bold harmonies to portray the age-old battle between good and evil, lost innocence and temptation, thwarted love, passion and violence.
2:00pm
Saint-Saëns: Proserpine, lyric drama in four acts
Proserpine...Véronique Gens (soprano)
Angiola...Marie-Adeline Henry (soprano)
Sabatino...Frédéric Antoun (tenor)
Squarocca...Andrew Foster-Williams (bass-baritone)
Renzo...Jean Teitgen (bass)
Orlando...Mathias Vidal (tenor)
Ercole...(Philippe-N. Martin (baritone)
Filippo / Gil...Artavazd Sargsyan (tenor)
Young Girl/Novice/Nun...Clémence Tilquin (soprano)
Flemish Radio Chorus
Munich Radio Orchestra
conductor, Ulf Schirmer.
Synopsis
ACT ONE
 Italy in the sixteenth century. The courtesan Proserpine reopens the doors of her palazzo, which have been closed for the past month, to give a feast. Her past or future lovers wonder what is going on. She appears, but rejects those present, sighing 'Sabatino has not come'. They sing her a madrigal, in vain; she withdraws.
A moment later, Sabatino enters the house with his friend Renzo, whose sister Angiola he is to marry, on one condition: that he rid himself, by satisfying it, of his violent passion for Proserpine, who has never granted him her favours. And indeed, when she returns, she welcomes Renzo and seems to ignore Sabatino; the latter, taking advantage of a moment alone with her, asks for the privilege of becoming her lover. Proserpine, who is secretly in love with him, replies that he is lucky she is merely a courtesan; for if she gave her soul instead of selling her body, she would no longer be responsible for her actions.
Frightened, Sabatino pretends he expects only a venal relationship. She refuses. He insists: 'I am rich.' She throws him out of the house, then, in desperation, dreams of offering herself to a poor man. Now it so happens that a well-known villain, Squarocca, has just been caught in the act of stealing her jewels; after giving him the choice between prison and her palazzo, she takes him to the banquet along with her. When she learns that Sabatino is about to be married, she ensures that Squarocca will do her bidding, and declares the orgy open.
ACT TWO
 At the convent in Turin where she is presently confined, Angiola finds it hard to believe in the radiant future her companions predict for her. Her brother Renzo is announced, accompanied, so he tells her, by a sinner who has just triumphed over Hell through her grace: Sabatino. The young man, much moved, improvises a declaration of love; she answers him briefly, then they sing of their happiness as they exchange rings; Renzo tenderly joins in with them. Their conversation is interrupted by the arrival of a crowd of pilgrims. Hidden among them, Squarocca observes the scene and trembles at what he must tell Proserpine: Angiola is so beautiful that the courtesan may well die of jealousy.
ACT THREE
 In the mountains, a band of gypsies are dancing a tarantella. Proserpine, disguised as a gypsy girl, awaits Squarocca, who is coming to report back to her. She is furious at his news; but they have come to seize Renzo and Angiola, who will be forced to make a halt here when the harness on their carriage breaks (having been tampered with by Squarocca's henchmen).
Proserpine is now a prey not only to the pangs of unrequited love but also to those of jealousy. She invokes the goddess whose name she bears, and who is deprived of the light of day just as she herself is of pure love. Then Squarocca strikes up a drunkard's song to attract the attention of the travellers seeking a refuge for the night. Soon he welcomes them, and, leading Renzo outside on the pretext of repairing the carriage, ties him to a tree; meanwhile Angiola remains with Proserpine, who pretends to tell her fortune. The threats she proffers if the girl does not break off her engagement become so pressing that Angiola, realising she is being deceived, tries to escape. Squarocca prevents this while Proserpine escapes; but Renzo, having broken free of his bonds in the meantime, rushes in and saves Angiola.
ACT FOUR
In his apartments, Sabatino looks forward to a marriage that will deliver him from the turpitudes of his libertine past. Proserpine enters unexpectedly and confesses that she has always loved him truly; she throws herself at his feet . . . But he will not be moved, and is asking her to leave when he hears the sound of Angiola's carriage. Proserpine remains concealed in order to observe the lovers' effusions. When she can bear it no longer she rushes out of her hiding place, attacking Angiola with a stiletto; Sabatino wards off the blow just in time. The despairing Proserpine now stabs herself, at last arousing the compassion of the couple, to whom she wishes a happy life together