Main content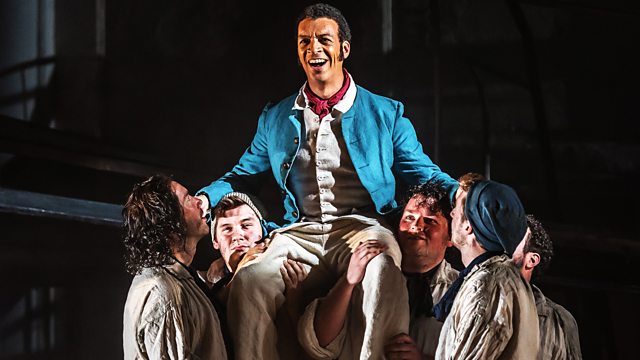 Britten's Billy Budd
From the Leeds Grand Theatre, an Opera North and Royal Dutch Opera production of Britten's psychological maritime drama Billy Budd. Starring baritone Roderick Williams.
Britten's psychological maritime drama Billy Budd is set on board HMS Indomitable at the close of the 18th century, a time of riotous mutinies amidst the Napoleonic Wars. Adapted from the novella by Hermann Melville, his final work, Britten collaborated with librettists EM Forster and Eric Crozier in this ambiguous tale of good versus evil. In this new co-production from Opera North and Royal Dutch Opera recorded at Leeds Grand Theatre, baritone Roderick Williams makes his debut in the role of Billy Budd, the charismatic and handsome able seaman undone by his one fatal flaw. Bass Alastair Miles plays his nemesis, the depraved Master at Arms Claggart, and tenor Alan Oke is the equally conflicted Captain Vere, who looks back on his life's defining events from the safety of old age. Presented by Donald Macleod.
Captain Vere ..... Alan Oke (Tenor)
Billy Budd ..... Roderick Williams (Baritone)
John Claggart ..... Alastair Miles (Bass)
Mr Redburn ..... Peter Savidge (Baritone)
Mr Flint ..... Adrian Clarke (Bass-Baritone)
Lieutenant Ratcliffe ..... Callum Thorpe (Bass)
Red Whiskers ..... Daniel Norman (Tenor)
Donald ..... Eddie Wade (Baritone)
Dansker ..... Stephen Richardson (Bass)
Novice ..... Oliver Johnston (Tenor)
Novice's Friend ..... Gavan Ring (Baritone)
Squeak ..... David Llewellyn (Tenor)
Bosun ..... Jeremy Peaker (Bass)
First Mate ..... Paul Gibson (Bass)
Second Mate ..... Nicholas Butterfield (Bass)
Maintop ..... Aled Hall (Tenor)
Arthur Jones ..... Tim Ochala-Greenough (Tenor)
Children ..... Cormac Keating, James Slingsby, Jakub Packo, Daniel Simpson, Lucas Walker
Chorus of Opera North
Opera North Orchestra
Garry Walker (Conductor).
A guide to Britten's Billy Budd featuring the voices of Britten experts.
Synopsis
The story takes place during the French Wars in 1797, on board HMS Indomitable, a 'Seventy-Four' gun ship of the line.
Prologue
Captain Edmund Fairfax Vere, an old man, is haunted by his time as commander of the Indomitable. In an attempt to come to terms with the decisions he made, he delves into his memories.
Act One
Scene 1: The main-deck and quarter-deck of the Indomitable
Sailors are cleaning the main-deck under the watchful eyes of the Bosun, Mates and Mr. Flint. A Novice slips and is taken away to be flogged.  
Lieutenant Ratcliffe announces the arrival of three new recruits, impressed from a passing merchant ship, the Rights o' Man. Mr. Claggart questions them and Mr. Redburn considers where on board they should be posted. Red Whiskers and Arthur Jones are nothing special, but as an able seaman Billy Budd is quite clearly a welcome addition to the crew. When asked about his home, he stammers, eventually revealing that he is a foundling. Thrilled with his new position on board, as foretopman, Billy exultantly bids 'Farewell to ye old Rights o' Man'. His superiors worry that he may harbour revolutionary sympathies.
Billy has made an impression on Claggart, who instructs Squeak to impede the new recruit's smooth transition to life on board the Man of War. The Novice's Friend reports to Claggart that the flogging is over, but that the offender took it badly. Dansker and Donald, old hands on the Indomitable, have meanwhile taken Billy and Red Whiskers under their wing. Along with the other sailors they tell their new shipmates about their captain, 'Starry Vere'.
Scene 2: Captain Vere's cabin, a week later
Vere discusses the recent mutinies at Spithead and the Nore with Redburn and Flint. When they raise the subject of Billy Budd and the Rights o' Man, Vere makes light of their concerns. Ratcliffe announces that they are entering enemy waters.
Scene 3: The berth-deck, the same evening
The sailors relax. When Billy finds Squeak meddling with his kit, he is once again halted by his stammer. Claggart appears to defend Billy in public, but in private he reveals that he is bent on Billy's destruction and on the annihilation of his beauty and goodness. To this end, Claggart enlists the help of the reluctant, but vulnerable, Novice who eventually promises to manufacture evidence against Billy.
Horrified by the Novice's attempt to bribe him into leading a mutiny, Billy is again hindered by his stammer. Dansker interrupts the confrontation and, comforted by his old friend, Billy dreams of promotion. Dansker however understands that Claggart is to be feared.
INTERVAL
Act Two
Scene 1: The main-deck and quarter-deck, some days later
Claggart's attempts at a private audience with Vere are thwarted when Maintop spots a French ship. The restless men are excited at the prospect of battle at last. Dansker, Donald, Red Whiskers and Billy volunteer to be the first to board the Frenchie, and Vere orders the gunners to try a shot. But the enemy ship is too far away and everyone is disappointed when the shot falls short.
Claggart approaches Vere again and denounces Billy for instigating mutiny. Vere is disbelieving of Claggart's tale, but orders for Billy to be brought to his cabin.
Scene 2: Captain Vere's cabin, a few minutes later
Billy is initially excited by an invitation to the captain's cabin, but Vere instructs him to put aside his hopes of promotion for the moment. Claggart is admitted, bringing an accusation of mutiny against Billy. At first paralyzed by his stammer, Billy lashes out and kills Claggart with one blow.
With the ship in enemy waters, Vere is compelled to summon a drum-head court immediately. Billy implores Vere, the sole witness, to save him. The officers pronounce Billy guilty of murder and sentence him to hang from the yardarm. Claggart, whom they agree no one ever liked, is to be buried with full naval honours.
Scene 3: Billy's holding area, shortly before dawn the next morning
Dansker visits Billy with news that his shipmates are ready to rise up and save him. But Billy has accepted his fate and he insists that so too must everyone else.
Scene 4: The main-deck and quarter-deck, four o'clock the same morning
The men assemble to witness Billy's hanging. Deeply troubled, they turn in rebellion on their officers. Slowly the sailors obey the command to submit.
Epilogue
Captain Vere reflects on how he could have saved Billy, but how it was in fact Billy who saved him. He has come to terms with his past and is at last content.