Main content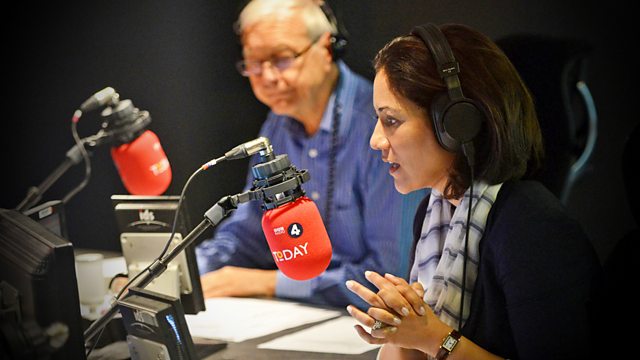 30/11/2016
Morning news and current affairs. Including Yesterday in Parliament, Sports Desk, Weather and Thought for the Day.
Today's running order
0650
Chancellor Angela Merkel has announced that she will run for a fourth term in office in elections next year. Matthew Price is the Today programme's chief correspondent. Artur Fischer is CEO of the Berlin Stock Exchange.
0655
First Minister of Northern Ireland Arlene Foster has backed the government's call to move immigration controls back to the Irish border. Dagmar Schiek is a professor of European Union Law at Queen's University in Belfast
0710
The Bank of England is due to provide a snapshot of the strength of Britain's biggest lenders after assessing their resilience to a dramatic economic downturn and sharp fall in house prices. Simon Jack is the BBC's business editor.
0715
The CIA's current head is John Brennan. He gives the first ever British broadcast interview as a serving director. Gordon Corera is the BBC's security correspondent.
0720
Last year tobacco company Philip Morris sold 850 billion cigarettes. Now it says it would like to move to phasing out cigarettes and introduce a new smokeless heated tobacco product.  André Calantzopoulos is the CEO and Director of tobacco company Philip Morris International Inc.
0730
Forty-eight skeletons have been found in an "extremely rare" Black Death burial pit. The mass burial has been uncovered in North Lincolnshire by a team from Sheffield University. Diana Swales is from the University of Sheffield and is leading the study of the bodies.
0740
Over the past two weeks the world chess Number One Norweigian Magnus Carlsen has been playing Sergey Karjakin in the World Chess Championship in New York. Jovanka Houska is an English chess player with the titles International Master and Woman Grandmaster.  Daniel Johnson is editor of Standpoint and author of White King and Red Queen: How the Cold War was Fought on the Chessboard.
0750
Today, Philip Morris, the tobacco company, launches what it calls a revolutionary heated tobacco product called IQOS. The technology heats tobacco without burning, generating a nicotine-containing vapour. Fraser Cropper is managing director of the e-cigarette manufacturer Totally Wicked. Professor John Britton is director of the UK Centre for Tobacco and Alcohol Studies at the University of Nottingham.
0810
Ambulance services are struggling to reach seriously ill and injured patients quickly enough after rising demand has left the system at breaking point, a BBC investigation has found. Alan Lofthouse is National Officer for UNISON and Keith Willett is NHS England director of acute care.
0820
It is thought that in the late 1930s hundreds of thousands of innocent Soviet citizens were executed, wrongly accused of being "enemies of the people". Now more than 60 years after Joseph Stalin's death, one man in Siberia is planning to take Stalin to court over one murder - the execution of his relative in 1938. Steve Rosenberg reports.
0830
The football child abuse allegations continue to develop as eight police forces look into the allegations. The FA has announced an inquiry into the historic cases. Steve Boocock helped to establish the NSPCC's Child Protection in Sport unit.
0840
The number of victims of what's known as "sextortion" has doubled in the past year, to over 850, according to new figures released by the police. "Sextortion" is a new form of blackmail, in which criminals trick people into performing sexual acts online and then demand money to stop the images being passed onto others. Roy Sinclair is operations manager of the National Crime Agency's anti-kidnap and extortion unit.
0845
This week the Guardian reported that "Feuding gangs on Liverpool estates have sparked a chaotic eruption of violence". Mike Barton is Chief Constable of Durham and the National Police Chiefs Council lead on gang violence. Jermaine Lawlor is a youth worker and former gang member.
0850
The government has distanced itself from a page of Brexit notes caught on camera in Westminster. The handwritten notes were photographed whilst carried by an aide to Conservative MP Mark Field. Baroness Tina Stowell was an aide to John Major and William Hague and former leader of the House of Lords. Mark Dunton is contemporary records specialist at the National Archives.
All subject to change.