Main content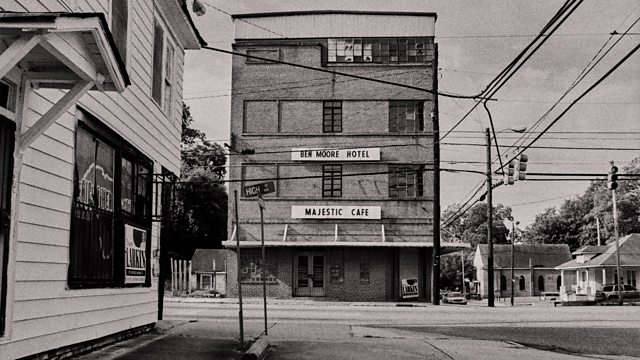 The Green Book
In the segregation era, African American motorists encountered hostility and intolerance. Alvin Hall tells the story of a travel guide that helped them find safety along the way.
In the Jim Crow era of racial segregation, travelling in the United States was fraught with difficulties if you were black. At best it was inconvenient, as white-owned businesses refused to serve African American motorists, repair their cars or offer them hotel accommodation. At worst, travel could be life-threatening if you walked into the wrong bar in the wrong town.
That's why in 1936 Victor H Green, a Harlem postal worker, published the first edition of The Green Book. The guide listed hotels, restaurants, bars and service stations which would serve African Americans and was an attempt, in Victor Green's words, "to give the Negro traveller information that will keep from him running into difficulties and embarrassments". 'Embarrassments' seems rather a tame word for the outright hostility and physical danger which many black travellers experienced in segregation-era America. The Green Book became a catalogue of refuge and tolerance in a hostile and intolerant world.
Alvin Hall hits the highway, Green Book in hand, to document a little-known aspect of racial segregation: the challenges - for mid-20th century America's new black middle class - of travelling in their own country. Alvin's journey starts in Tallahassee, Florida, where he was born and raised, takes him through Alabama and Tennessee and concludes in Ferguson, Missouri.
The guide ceased publication soon after the passing of the Civil Rights Act in 1964. But, as Alvin discovers in Ferguson, many African Americans still feel far from safe as they drive. Alvin asks whether the Green Book ceased publication too soon.
Interviewees: Carolyn Bailey-Champion, Dr. Charles Champion, Leah Dickerman, Jerome Gray, Prof. Allyson Hobbs, Ryan Jones, Maira Liriano, Ron McCoy, Robert Moman, Dr. Gwen Patton, Calvin Ramsey, Tiffany Shawn, Rev. Henry Steele, Bryan Stevenson and Rev. Starsky Wilson
Producer: Jeremy Grange
Archive audio courtesy of PBS, CBS and CNN
Photos: Jonathan Calm.
Last on
Broadcasts

Telling the extraordinary story of The Negro Motorist Green Book
The Green Book – A Visual Journey