Main content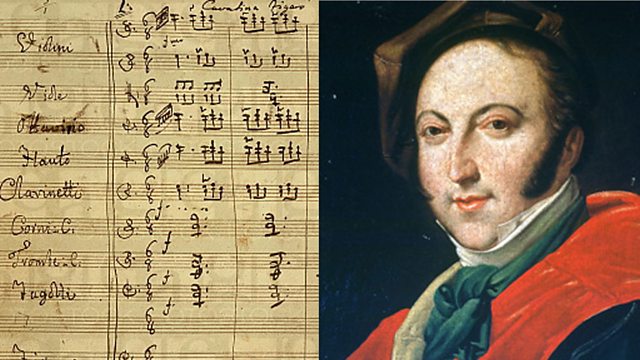 Rossini's The Barber of Seville
On the 200th anniversary of its debut, Rossini's comic opera The Barber of Seville is the first in a new series of Frances Fyfield's celebration of autographed music manuscripts.
Frances Fyfield is in Italy to launch a new run of her series exploring and celebrating the handwritten manuscripts of some of classical music's greatest hits. In a series that includes works by Vivaldi and Puccini she begins with one of the most popular staples of Opera Houses across the globe, Rossini's The Barber of Seville.
The manuscript is housed in the music museum of Bologna, the city where Rossini was brought up and trained. Written at break-neck speed, and facing comparison with another version of the story of Count Almaviva, his trusted accomplice Figaro and the subject of his passion, Rosina, The Barber of Seville has been in the repertoire since its stumbling debut two hundred years ago. Joining Frances is the Bass Baritone Simone Alberghini, the Rossini scholars Daniela Macchione and Stefano Castelvecchi and the museum curator Enrico Tabellini.
Such was the urgency of the writing that many of the numbers, not least Figaro's famous opening aria 'Largo Al Factotum', are clearly composed into the score without any preliminary sketches. Busy corrections and hasty orchestration reflect both the energy of the music and the urgency of the composer. He didn't have time for the recitatives which were completed, for the most part, by a collaborator and if a rethink was required ink smudges and scratching of the paper suggest they were done straight away. As with the Opera itself the team find the energy fizzes and bubbles off the page and there are plenty of surprises for the singer Simone who discovers that age-old Figaro performing traditions have nothing to do with what Rossini wrote in the score.
Producer: Tom Alban.
More episodes
Previous
You are at the first episode