Main content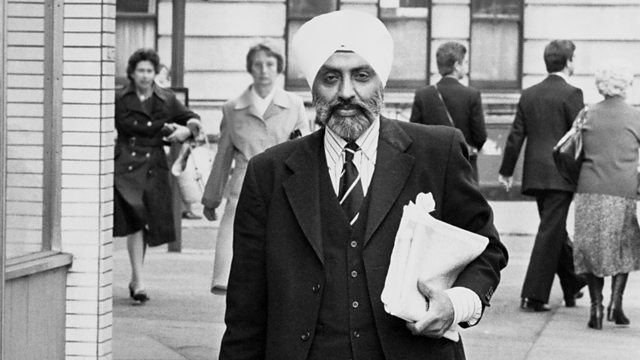 Martin Aitchison, Sir Mota Singh QC, William Trevor, Ruth Gruber, David Mancuso
Kate Silverton on the artist Martin Aitchison, judge Sir Mota Singh, writer William Trevor, photojournalist Ruth Gruber and party host David Mancuso.
Kate Silverton on:
Martin Aitchison who worked with Barnes Wallis on the bouncing bomb but made his name illustrating the Peter and Jane ladybird books.
Sir Mota Singh, the Kenyan born Barrister who became Britain's first ethnic minority judge making headlines worldwide as the first judge in 300 years not to wear the horse hair wig
William Trevor - one of Ireland's greatest writers - a novelist, playwright and short story writer, his work was compared with Chekhov
Ruth Gruber, journalist, author, humanitarian and spy. She documented Stalin's gulags, life in Nazi Germany and the plight of Jewish refugees
and David Mancuso, dance music legend and music host who founded the Loft in New York.
Producer: Neil George.
Martin Aitchison
Kate spoke to his son, Nick Aitchison and to his friend, the Ladybird Books expert, Helen Day.
Born 21 November 1919; died 22 October 2016 aged 96.
Sir Mota Singh QC
Last Word spoke to his brother, Varinder Singh, to his friend, Judge Bathurst-Norman and to Lord Woolfe.
Born 26 July 1930; died 13 November 2016, aged 86.
William Trevor
Kate spoke to Eileen Battersby, literary critic for the Irish Times, who became a friend.
Born 24 May 1928; died 20 November 2016 aged 88.
Ruth Gruber
Kate spoke to her daughter, Celia Michaels.
Born 30 September 1911; died 17 November 2016 aged 105.
David Mancuso
Kate spoke to his friend, Colleen Murphy.
Born 20 October 1944; died 14 November 2016 aged 72.
Credits
| Role | Contributor |
| --- | --- |
| Interviewed Guest | Nick Aitchison |
| Interviewed Guest | Helen Day |
| Interviewed Guest | Varinder Singh |
| Interviewed Guest | Norman Barthes |
| Interviewed Guest | Harry Woolfe |
| Interviewed Guest | Eileen Battersby |
| Interviewed Guest | Celia Michaels |
| Interviewed Guest | Colleen Murphy |
| Presenter | Kate Silverton |
| Producer | Neil George |