Main content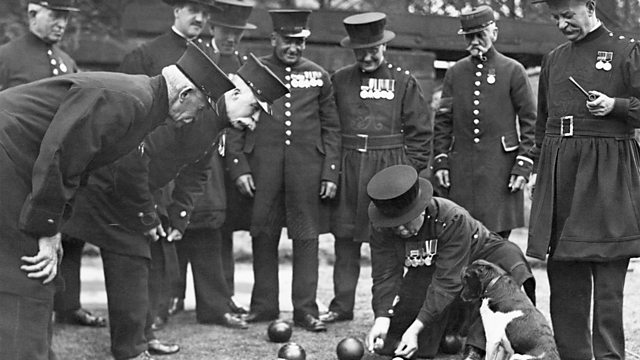 Tower of London
Eric Robson and the panel visit the Tower of London. Pippa Greenwood, Matt Biggs and Chris Beardshaw answer this week's horticultural questions.
Eric Robson and the panel visit the Tower of London. Pippa Greenwood, Matt Biggs and Chris Beardshaw answer this week's horticultural questions.
They discuss easy-to-grow edibles, how best to defend against a Thrip infestation and what to plant to reduce air pollution.
Matt Biggs delves into the horticultural history of the Tower, discovering the planting habits of a very famous prisoner along the way.
Produced by Dan Cocker
Assistant producer: Hannah Newton
A Somethin' Else production for BBC Radio 4.
Last on
GQT Tower of London Fact Sheet
Q – What easy-to-grow edibles can you recommend that will reflect the multicultural nature of our allotments?
Pippa – Okra (Ladies' Fingers) – grow them outside in a cloche. Chillis. Sweet potatoes.
Matt – Mooli.  Herbs: mint.  Borlotti beans. 
Chris – Try a white carrot
Q – What can we do about the Thrip infestation on Pyracantha?
Pippa – They do like warmer weather and protected environments – as do Leafhoppers.   On the whole they don't do too much damage so I'd say something else is getting at them too.
Chris – Companion planting can help dissuade pests from hanging around – things like Helichrysum and Tanacetum are natural insecticides
Q – What plants can you suggest that are capable of absorbing pollutants – particularly outdoor plants?
Chris – Dust is the biggest pollutant outside.  'London Plane' tree is great.  You want a broad, waxy leaf base.  You want something that regularly jettisons its leaves. 
Matt – Spathiphyllum are good for absorbing indoor pollutants that get out
Chris – Mother in Law's tongue (Sansevieria trifasciata) is what NASA use. Apparently it's the best!
Pippa – Boston ferns
Q – Honey fungus has killed a small tree on a drive and is now attacking an Acer. Is there anything I can plant in that plot once the Acer is gone?
Pippa – If it's not woody it's less likely to succumb.  Dig out the Acer rather than waiting for it to die!
Q – Why is it that the same plant has different successes when planted in different parts of the garden?  I've had problems with Pyrocantha and a Ceanothus
Pippa – It could be animals getting to certain parts of the garden
Matt – It shouldn't be a problem with soil type. 
Q – We don't have access to outdoor space so we're interested in growing a vertical wall indoors – how best to do this?  Hoping to grow herbs and edibles.
Pippa – I would protect the wall so it doesn't get damp
Chris – Don't try to be too clever.  Try and structure a series of growing bags across the support and then water each one individually to ensure good watering.  Like an old-fashioned show rack. 
Q – There's no space on our allotment for rotting down manure so we spread it on the beds at the end of the growing season and cover with cardboard. Is this ok?
Chris – That's fine.  If you can dig a trench, put the manure at the bottom, and then the soil on top that's another good method. 
Matt – If you're growing brassicas they like a firm bed so maybe don't do it on those beds
Eric – You need to keep an eye on the pH too
Q – We have an informal growing competition and we're looking for ideas of what to grow competitively in 2017?
Pippa – Try a small, fruiting sweet pepper.  Or squash.
Matt – Giant tomatoes, biggest beetroot
Chris – Grow what you are good at growing to make sure you win!  Try the Datura or the Brugmansia – the 'Angels Trumpets'.
Broadcasts