Main content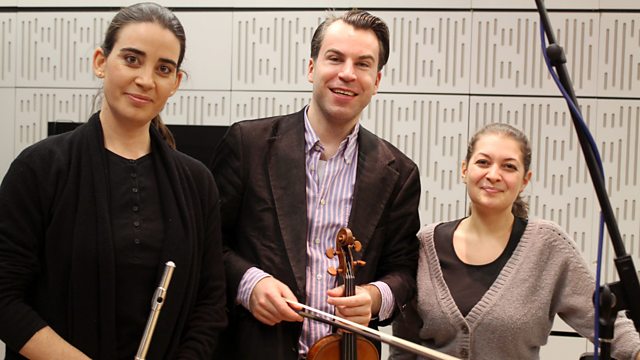 Elin Manahan Thomas, Barry Douglas, Ana de la Vega and Daniel Röhn
Sean Rafferty presents music and guests, including soprano Elin Manahan Thomas, pianist Barry Douglas, flautist Ana de la Vega and violinist Daniel Rohn.
Sean Rafferty's guests include flautist Ana de la Vega and violinist Daniel Röhn with pianist Irina Botan. Plus Barry Douglas on Tchaikovsky and marking 30 years since he won the International Tchaikovsky Competition that launched his career. Soprano Elin Manahan Thomas is joined by Brian Ellsbury on the piano as they release a new recording and perform live in the studio.
5.30pm Power of Three - another chance to hear the next installment in a 70-part daily series of pioneering sounds from the BBC Third Programme and Radio 3 archives presented by David Hendy.
Radio 3's 70th season, celebrating seven decades of pioneering music and culture since the founding of the Third Programme.