Main content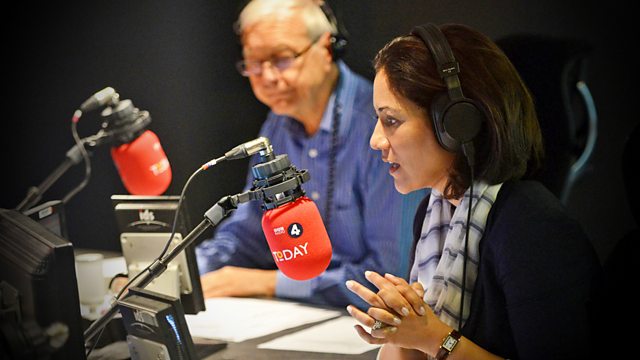 25/11/2016
Morning news and current affairs. Including Yesterday in Parliament, Sports Desk, Weather and Thought for the Day.
Today's running order
0650
Last July a number of scientists announced that they were trialling a drug that appeared to be able to delay the effects of Alzheimer's . It's emerged that a major trial of that drug, Solanezumab, has ended in failure. Dr Liz Coulthard is senior lecturer in dementia neurology at the University of Bristol.
0655
A football club is claiming to be the world's first to adopt a vegan match day menu. National League club Forest Green Rovers also plans on building the world's first ever wooden eco-friendly stadium. Our sports correspondent, Richard Conway reports.
0710
In a damning report of the Metropolitan police, inspectors have said children in London are being put at risk because of "serious failings" in the way the Met Police deals with child sexual abuse. Matt Parr is Her Majesty's Inspector of Constabulary and the lead inspector for this report. Danny Shaw is the BBC's home affairs correspondent.
0715
The Prime Minister of Malta, Joseph Muscat, tells the BBC he wouldn't be surprised if there was a delay in Britain leaving the EU. The leader will take over the EU's rotating presidency in January. The BBC's Europe editor Katya Adler reports.
0720
Skyscanner, the UK-based travel search business, has been bought by Ctrip, China's biggest online travel firm in a deal worth £1.4bn. The BBC's Katie Prescott reports.
0730
The government of Iceland has launched legal action against its namesake, the British grocery chain Iceland, over the use of its name. Lilja Alfreồsdòtti is Iceland's Foreign Minister and Nick Canning is joint Managing Director of Iceland grocery chain.
0740
Two more ex-footballers have revealed that they were abused as children by a football coach.  Jason Dunford and Chris Unsworth both claim they were abused by former Crewe Alexandra coach Barry Bennell. Dan Roan is the BBC's news editor and Gordon Taylor is the Professional Footballers' Association's chief executive.
0750
The government has decided to back a proposal to make people who wear military medals they're not entitled to, liable for prosecution. Major Judith Webb was the first woman to command an all-male field force squadron in the British Army. Former Colonel, Lincoln Jopp, MC, commanded the 1st Battalion Scots Guards in Afghanistan and was awarded the Military Cross for service in Sierra Leone.
0755
There will be substantial increases in government borrowing in each of the next five years because of Britain leaving the EU, according to the Office for Budget Responsibility (OBR). Robert Chote is current chairman of the OBR.
0810
Scotland Yard has been severely criticised for "fundamental deficiencies" in the way it deals with child abuse and the sexual exploitation of children. Martin Hewitt is Assistant Commissioner of the Metropolitan Police.
0820
More school-aged children are believed to be affected by having a parent with Parkinson's disease because adults in the UK are having children later in life. Lyn Fearn has two young children and was diagnosed with Parkinson's 4 years ago. Mael Fearn is her son.
0830
Plans to expand Heathrow Airport are set to breach the government's climate change laws, advisers have warned. Lord Deben is chairman of the Committee on Climate Change.
0840
Scientists at Sussex University say they could be on the verge of a huge leap forward in computer science as they're a step closer to building a large-scale quantum computer. Dr Winfried Hensinger is Professor of Quantum Technologies at Sussex University.
0850
Black Friday is the biggest shopping day of the year. UK shoppers are expected to spend £2billion on discounted goods today.  Steve Woodman is director of UK operations for DPD group and Helen Dickinson is director of Women in Retail.
All subject to change.