Main content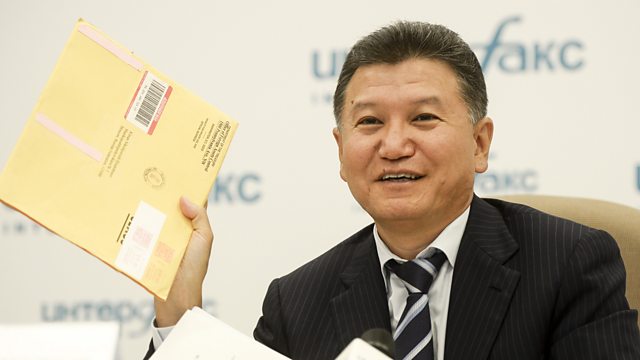 Checkmate for the King of Chess?
Is it finally checkmate for the king of chess? Tim Whewell with the bizarre tale of Kirsan Ilyumzhinov, president of the world chess body, and his run in with the US government.
The bizarre and extraordinary story of Kirsan Ilyumzhinov, the eccentric Russian tycoon and president of FIDE, the international chess governing body. His twenty years in office have been dogged by allegations of corruption and vote-rigging and he's recently been banned from entering the United States by the US Treasury for his alleged involvement in assisting the Assad regime in Syria. It's prevented him from presiding over this month's World Chess Championships in New York. For Assignment Tim Whewell reports from Moscow and New York on the deeply politicised game of chess and asks if it's finally checkmate for the king of chess.
Dina Newman producing.
Photo: Kirsan Ilyumzhinov with the letter from the US Treasury informing him why he had been placed under US sanctions.
Credit: K.Ilyumzhinov's archive