Main content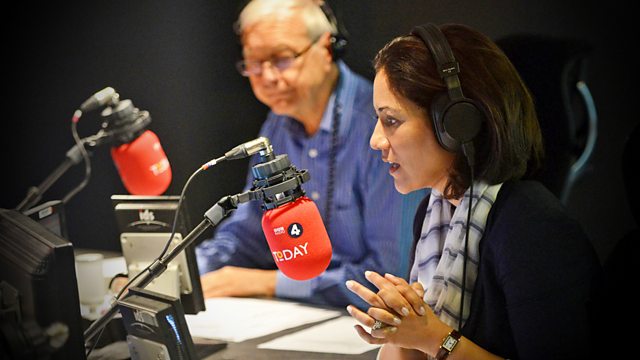 22/11/2016
Morning news and current affairs. Including Yesterday in Parliament, Sports Desk, Weather and Thought for the Day.
Today's running order
0650
When victims of crime choose to take part in restorative justice and meet their offender, almost half of them do so to encourage that person to turn their life around. That's the finding of a review by the victims' commissioner, Baroness Helen Newlove.
0655
A controversial levy on workplace car parking is being considered by councillors trying to cut road congestion in Oxford. The BBC's environment analyst Roger Harrabin reports.
0710
Wind and rain will continue to batter parts of England and Wales in the wake of Storm Angus, which has caused flash flooding and travel chaos. Heather Shepherd is from the National Flood Forum, a charity which helps people affected by flooding.
0715
The government is going to put more taxpayers' money into improving the digital infrastructure for people who can't get a decent broadband signal. The BBC's technology correspondent Rory Cellan-Jones reports and Sir Mike Rake is BT chairman.
0720
Full year results from the owner of Clydesdale Bank and Yorkshire Bank. Today business presenter Rob Young speaks with David Duffy, CEO of CYBG.
0730
The Chancellor Phillip Hammond will stand up in the House of Commons tomorrow to deliver the Autumn Statement - the first major government announcement on the economy since the EU Referendum. The BBC's economic editor Kamal Ahmed looks at his choices.
0740
Richard Burton had one of Hollywood's most distinctive voices: rich, fluent and melodic. But to what extent was it the result of years of conscious effort and vocal training? A documentary, to be broadcast this week on Radio 4, will explore the influences which shaped Burton's voice. Penny Dyer is a voice and dialect teacher and Antonia Quirke is presenter of How Richard Burton Got His Voice for her Radio 4 series Cinema's Secret History.
0750
There was no mention of building a wall or of repealing Obamacare, but we do now know that President-elect Donald Trump will withdraw from the Trans-Pacific Partnership - the trade deal with Asia - on his first day in office. The BBC's Jon Sopel reports.
0810
Hospital patients could soon be asked to show their passports before they're seen. A senior Department of Health official confirmed yesterday the government is considering introducing the ID check nationwide to tackle so called 'health tourism'. Professor J Meirion Thomas is a former cancer surgeon at the Royal Marsden Hospital in London and Dr Mark Porter is chair of the British Medical Association.
0820  
Sing Sing prison in upstate New York is being introduced to opera. The mezzo-soprano Joyce DiDonato speaks to Today's special correspondent James Naughtie about her experience performing.
0830.
President-elect Donald Trump says he will quit the Trans-Pacific Partnership on day one of his presidency. Jan Brewer is former governor of Arizona. 
0840
Nearly one million people are living under siege in Syria, the UN aid chief said on Monday - a dramatic increase from 486,700 six months ago. The BBC's Mike Thompson speaks with Monther Etaki, a journalist in Aleppo.
0850
A group of profoundly deaf people who have been fitted with cochlea implants will have the devices turn on live on Channel 4 tonight in a programme called Breaking the Silence, to allow some of them to hear for the very first time. Dr Louise Craddock is an audiological scientist at Queen Elizabeth Hospital in Birmingham.


All subject to change.