Main content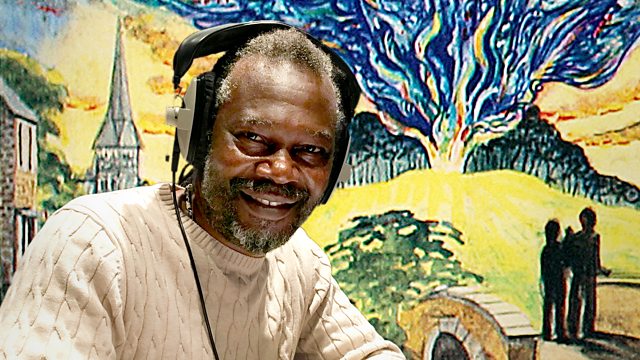 A Vision on Peckham Rye
Levi Roots returns to Peckham in South London to find out more about his favourite poet, William Blake, and the story of the vision of angels he had as a young boy.
"Sauntering along the boy looks up and sees a tree filled with angels, bright angelic wings bespangling every bough, like stars"
When Levi Roots was 15, a teacher read out William Blake's The Tyger to the class. For Levi, it was a life-changing moment. The singer and entrepreneur had only just learned to read and describes the poem as exploding into his brain the way no words ever had before.
Levi returns to South East London to find out more about his favourite poet and uncover the story of Blake's supposed first vision of angels bespangling the branches of a tree on Peckham Rye at the age of "8 or 10".
Writers, poets and artists continue to draw inspiration from this idea and we hear from some of them about why Blake, and especially this story, continues to have such powerful resonance.
David Almond, explains how Blake crept into his novel Skellig and why he thinks that childhood imagination is different from that of adults. Chris McCabe has been researching the poetic vibrations of the area across the centuries for a book about the lost poets of Nunhead Cemetery, Cenotaph South, and accompanies Levi on a quest to find Blake's tree. The filmmaker Sarah Turner recreated the angel incident for her film Public House, about the successful community takeover of a local pub. Levi, his guests, and students from Harris Girls Academy, a school that sits on the Rye take some time to look into the trees and see if they can find any traces of Blake's angels. What could those angels be and why does Blake, despite his difficulty, seem to ignite the passions of young people?
The programme includes readings by Peter Marinker, Chris McCabe, Levi Roots, Georgia Peskett, Barnaby Steed, David Almond and the students of Harris Girls Academy East Dulwich.
The choral piece, Criers of Peckham Rye, was for the film Public House by Duncan Macleod and performed by Dulwich Folk Choir and Duncan Macleod. The programme features other extracts from the film Public House made and sound designed by Sarah Turner.
Producer: Natalie Steed
A Whistledown production for BBC Radio 4.